Government spending reached PhP 306.6 billion in October 2018, higher by PhP 79.8 billion or 35.2% from the same period last year on the back of higher infrastructure spending and maintenance expenditures. This puts total national government spending at PhP 2.796 trillion in the first ten months of the year, registering an impressive PhP 555.0 billion or 24.8% growth.
"We are glad to report that government spending has continued its strong outturn in the month of October, driven by our huge investments on social services and Build Build Build," said Budget and Management Secretary Benjamin E. Diokno. "There is no underspending, as critics falsely claim, and this is validated by the numbers. We'll have a strong finish in 2018," he explained.
Drivers of Spending Growth in October
Infrastructure and other capital outlays surged to PhP 94.4 billion in October 2018, up by PhP 42.9 billion or 83.4% year-on-year as billing claims and payments for completed infrastructure projects were made.
These include: road infrastructure projects of the Department of Public Works and Highways (rehabilitation/reconstruction/upgrading of damaged paved national roads, flood control and drainage improvement projects, construction of bypass/diversion roads, road improvement/widening); the Health Facilities Enhancement Program of the Department of Health; repair of buildings and acquisition of equipment of various State Universities and Colleges; repair and rehabilitation of school buildings under the Department of Education; and local infrastructure projects in the Autonomous Region in Muslim Mindanao.
Meanwhile, maintenance and other operating expenses reached PhP 64.5 billion, increasing by PhP 24.0 billion or 59.4% year-on-year, with the various social programs of the government. In October 2018, disbursements were made for the cash grants under thePantawid Pamilyang Pilipino Program of the Department of Social Welfare and Development, among other social protection services like the Social Pension for Indigent Senior Citizens and the Sustainable Livelihood Program.
Education and scholarship programs of the Department of Education (Senior High School Voucher, Educational Service Contracting Programs) and the Commission on Higher Education also boosted maintenance spending in October.
Year-to-date Performance and Government Spending Outlook
"The year-to-date figures remain impressive. Public spending is up by 24.8% in the first ten months of the year and this is no small feat considering our much bigger budget," said Secretary Diokno. "More so, the drivers of spending growth remain to be infrastructure and human capital development, ensuring that taxpayer money is well spent," he added.
From January to October 2018, infrastructure spending amounted to PhP 665.1 billion, up by a whopping PhP 222.5 billion or 50.3% compared to the same period last year.
On the other hand, maintenance expenditures reached PhP 435.3 billion, higher by PhP 69.4 billion or 19.0% year-on-year.
"Looking ahead, the public sector will continue to buoy the Philippine economy. Faster and more targeted spending will translate to wider roads and better mass transport systems, more accessible education and health services, and overall better standards of living for our people," he concluded.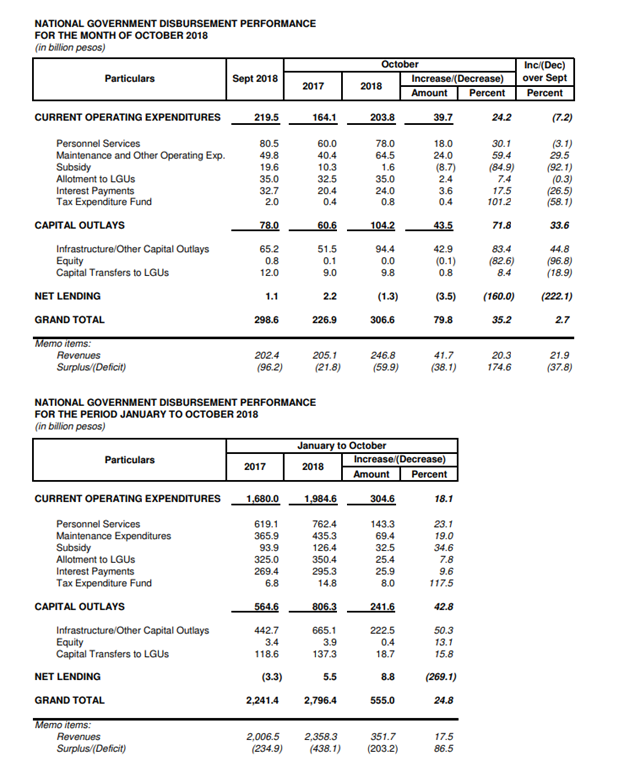 (30)
For inquiries, further questions and requests for interview, please contact Marianne Ongjuco:
Email:

This email address is being protected from spambots. You need JavaScript enabled to view it.


Telephone: (+632)-735-4847