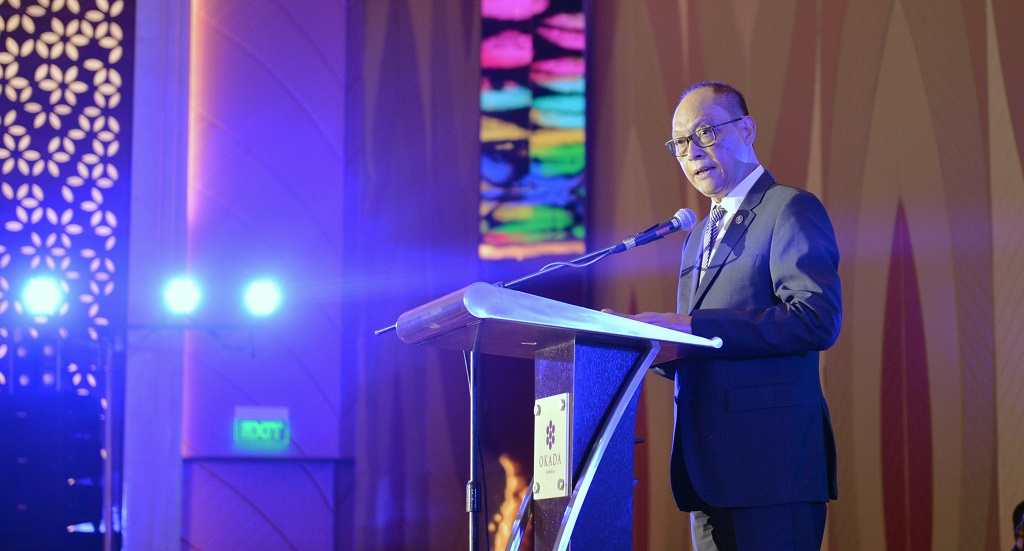 Budget Secretary Benjamin Diokno delivers his message of support at the USAID FPI Project Ceremonial Handover in Okada Manila.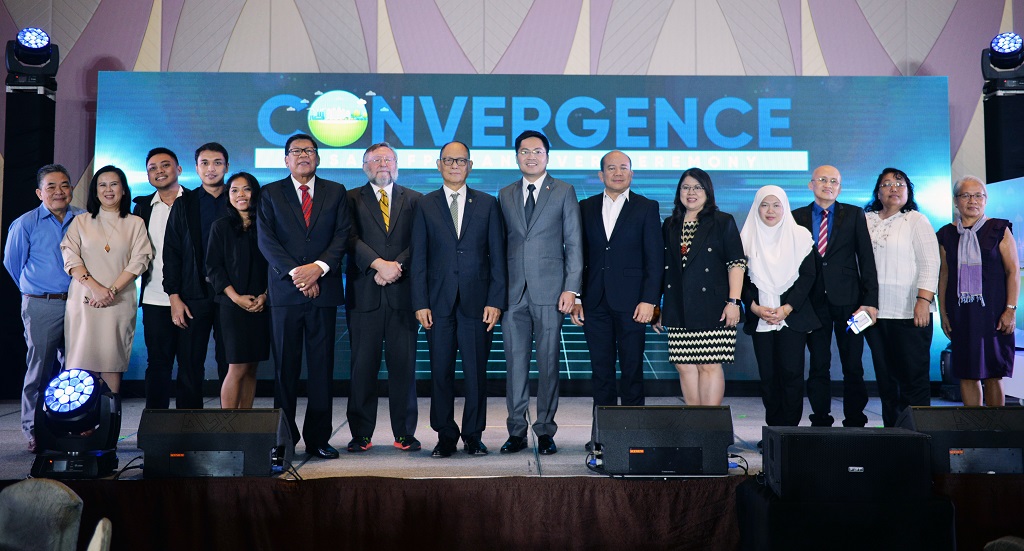 Secretary Benjamin Diokno with BIR Commissioner Cesar Dulay, DAI Deputy Chief of Party Bruce Hutchins, Cabinet Secretary Karlo Nograles, DBM Assistant Secretary Rolando Toledo, DBM Undersecretary Lilia Guillermo and other key partners.
DBM Secretary Diokno attended the United States Agency for International Development - Facilitating Public Investments (USAID-FPI) project Ceremonial Handover yesterday at Okada Manila.
USAID's FPI is a five-year project aimed at supporting the expansion of public and private investments in the Philippines through higher tax revenues, improved public expenditure management, and greater fiscal transparency.
The Ceremonial Handover served as a turnover of the various materials, tools and reports crafted by USAID-FPI for key partner National Government Agencies (NGAs), including DBM, Department of Finance, Bureau of Internal Revenue, among others.
In his message, DBM Secretary Diokno thanked USAID for the "invaluable assistance" the Philippines has received since 2013.
"FPI assistance has tackled virtually all areas of budgeting: from budget operations to procurement to citizen participation. We at the Department of Budget and Management are grateful for this assistance," Secretary Diokno said.
As a result of their partnership with USAID, the DBM is "looking forward to a number of things," according to the budget chief.
During the ceremony, USAID-FPI turned over an updated Manual of Operations on the National Government Budget; the DBM's Manual of Operations had not been updated in almost forty years.
USAID-FPI also reverted a Summary Report of Recommendations for the Modernized Government Electronic Procurement System (MGEPS) project, Agency User Manuals for the MGEPS Virtual Store and Implementation Guide for E-Catalog, and collaterals for the Government Procurement Reform Act (RA 9184) or GPRA Works! Campaign, which includes five videos, a trainer's manual and desktop reference for procurement practitioners.
Moreover, USAID-FPI supported a number of DBM activities this year, including the Writeshop for the Drafting of the Internal Rules and Regulations of the Budget Modernization Act, the Open Government and Participatory Governance Regional Dialogue Series, and Procurement Trainings for procurement officers of NGAs, Local Government Units (LGUs), and State Universities and Colleges.
Echoing earlier sentiments of key officials of the USAID promising continued partnership with the Philippine government, Secretary Diokno closed his message by saying that the Philippine government also "[looked] forward to building on present work and identifying new opportunities for partnership in the years ahead".
(30)
For inquiries, further questions and requests for interview, please contact Marianne Ongjuco:
Email:

This email address is being protected from spambots. You need JavaScript enabled to view it.