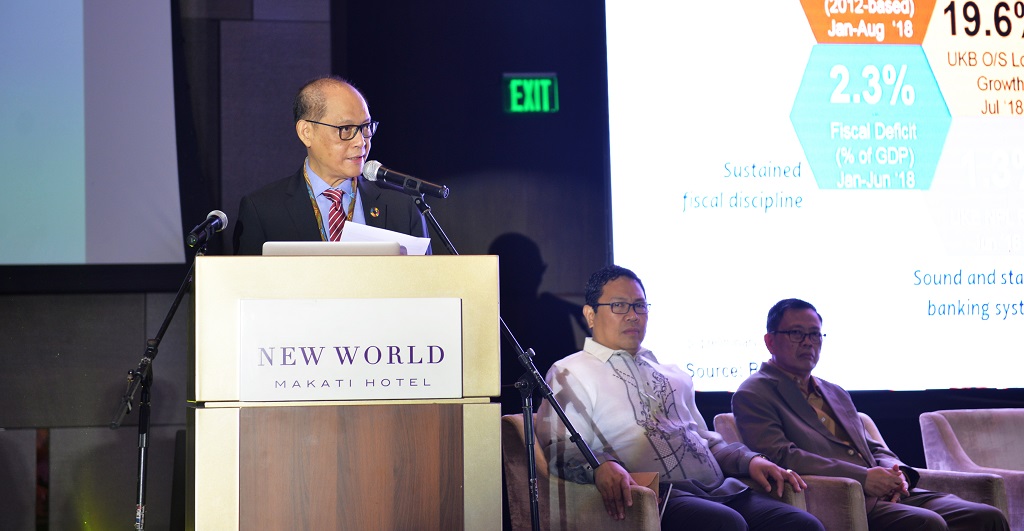 DBM Secretary Benjamin Diokno gave the keynote speech on behalf of President Rodrigo Duterte at the 6th ASEAN Universities International Conference on Islamic Finance held yesterday at New World Hotel, Makati City.
In his speech, Secretary Diokno discussed the Duterte economic reform agenda and the opportunities available for the development of Islamic Finance in the country.
In particular, he emphasized how the Build, Build, Build infrastructure program will "build the government's asset base for years to come".
"This should be exciting news with Islamic Finance being largely collateral-based or asset-backed," the Secretary said.
The budget chief also mentioned that part of the administration's financing strategy has been to diversify the country's investor base, hinting that "Sukuk", or Islamic bonds, may be ventured into in the near future.
"The President's commitment to the Muslim people is not lost on us, his economic managers," Secretary Diokno said. "One important economic issue that we are looking into is lack of access to Shariah-compliant financial instruments in the market."
According to Secretary Diokno, the issuance of the Shariah-compliant financing instrument called "Sukuk" is currently being studied by the Department of Finance.
The Philippines recently returned to the public Samurai market after an eight-year break, issuing Samurai bonds on a stand-alone basis for the first time in almost twenty years. This year, the Philippines also became the first ASEAN sovereign to issue Panda bonds, or renminbi-denominated bonds, or Panda bonds, which was warmly received by the Chinese and other offshore markets.
In conclusion, Secretary Diokno attested to the Duterte administration's commitment to "to financial inclusion and the growth of our financial sector" and that the administration would "continue to move this issue forward with utmost diligence and care".
(30)
For inquiries, further questions and requests for interview, please contact Marianne Ongjuco:
Email:

This email address is being protected from spambots. You need JavaScript enabled to view it.


Mobile: +63918-944-8109