Foreign direct investment (FDI) inflows surged by 31%, year-on-year, for the first eight months of the year on the back of sound policy reforms and robust macroeconomic fundamentals of the Philippine economy. FDI inflows stood at $7.4 billion from January to August 2018, higher by $1.8 billion than the $5.7 billion recorded in the comparable period last year.
"Foreign investors from China, Japan, Singapore, Hong Kong, and the United States are voting with their feet, and the FDI figures validate their vote of confidence," said Budget and Management Secretary Benjamin E. Diokno. "Too much hullabaloo is made of the dip in the August FDI inflows, but the more relevant news is that FDIs soared by 31% in the first eight months of the year compared to the record-setting FDI level last year," he added.
Build Build Build, the flagship infrastructure program of the government, has helped stir investor optimism. As much as PhP 8 trillion or $160 billion will be spent on constructing roads and bridges, providing comfortable and efficient mass transport systems, building agricultural and irrigation facilities, among other public infrastructure projects to boost economic efficiency and improve connectivity.
In the first 8 months of the year, spending on infrastructure and other capital outlays have reached PhP 505.6 billion, higher by PhP 168.0 billion or 50% in the same period last year. "Build Build Build is well underway and foreign investors are taking note of our progress," said Secretary Diokno.
FDI inflows recorded an all-time high in 2017 as investments that entered the Philippine economy reached $10.1 billion. This speaks to the structural reforms that have enabled the Philippine economy to be more competitive with FDI inflows averaging only $4.8 billion from 2011 to 2016.
"The economic managers of the government will continue to embark on reforms to make the Philippine economy more attractive to investors and more resilient to headwinds," said the Budget Chief. "On the fiscal front, curbing underspending and modernizing the country's budget system should only strengthen the fundamentals of the economy," he added.
"We recognize that FDIs will spark dynamism, spur job creation, and encourage innovation in the Philippine economy. These bode well for our plans to aggressively cut down poverty and realize growth of 7% to 8% in the medium-term," Secretary Diokno concluded.
(30)
Chart 1: Foreign Direct Investment Inflows, 2011 - 2018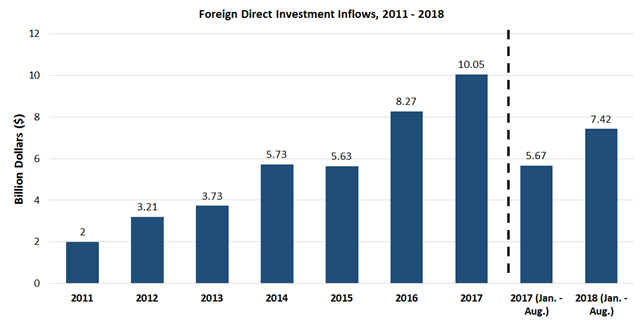 For inquiries, further questions and requests for interview, please contact Marianne Ongjuco:
Email:

This email address is being protected from spambots. You need JavaScript enabled to view it.


Mobile: +63918-944-8109