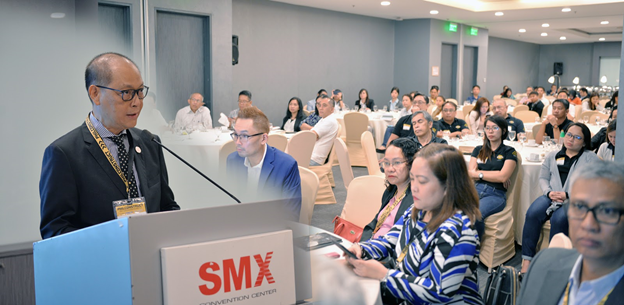 DBM Secretary Diokno opens the construction forum of the Philippine Constructors' Association (PCA) with a keynote address, focusing on Build Build Build funding mechanisms.
"Our massive investments in infrastructure and human capital are clear proof that we are committed to transforming the Philippines into Asia's next success story," DBM Secretary Benjamin E. Diokno expressed as he opened the Philippine International Construction Equipment, Building Materials, Interior & Exterior Products Exhibition and Technology Forum with a keynote address.
The forum, attended by developers, engineers, and members of the construction industry, centered on the theme of "Understanding construction contracts towards global excellence". Given this, the DBM Secretary, in his keynote address, highlighted the administration's ambitious Build Build Build infrastructure program, with emphasis on the government's preferred mechanisms and funding options in awarding project contracts.
"To forward the Golden Age of Infrastructure, the government uses all possible funding options including funding through the budget, Public-Private Partnerships (PPP), Unsolicited Proposal subject to Swiss Challenge, and Official Development Assistance (ODA)," the Budget Chief explained.
Secretary Diokno further noted that the government is adopting hybrid-PPP, where the government is in charge of the selection, financing, bidding, and construction, and once completed, will bid the operation and maintenance of the projects to the private sector. He argued that the hybrid PPP is quicker to mount and is less expensive than the traditional PPP. "The latter takes 29 months from project identification until the first shovel hits the ground," he added.
"We cannot afford long delays. President Duterte wants to finish most of the projects within his term. We don't want unfinished projects," the Budget Secretary emphasized. "Further, with hybrid PPP, the cost of financing is lower, around 2%, and long term, around 30 to 40 years."
The Budget Chief also noted that, in contrast with the previous administration, the government now accepts unsolicited proposals, subject to Swiss challenge. In fact, the upcoming PhP 101 Billion NAIA rehabilitation project will be funded through this mechanism.
Secretary Diokno concluded his address by encouraging his audience to share the administration's vision of a better Philippines- first-world infrastructure; better trained and flexible labor force; more decent jobs and higher wages; open, effective and accountable governance.
"Work with us in achieving our dream to be the fastest growing economy in the fastest growing region in the world," the Budget Chief concluded.
(30)
For inquiries, further questions and requests for interview, please contact Marianne Ongjuco:
Email:

This email address is being protected from spambots. You need JavaScript enabled to view it.


Mobile: +63918-944-8109