MANILA - The Project DIME team of the Department of Budget and Management (DBM) held a 2-day project workshop and Open Roads platform training for various stakeholders in October 29 to 30 at the DBM Central Office.
A total of 62 technical and focal persons from different agencies (i.e. DEPED, DPWH, DOTR, DOH, DICT, NEDA, DOST), including the DIME task forces from the regional offices of the DBM attended the workshop.
This 2-day orientation was held to train the participants in the application of satellite imagery, geo-tagging applications, and other project processes, which is crucial in verifying the status of programs, activities, and projects. Overseeing projects in far-flung areas wherein in-person physical inspection would prove difficult is especially dependent on these technologies as it ensures that the government money is well spent.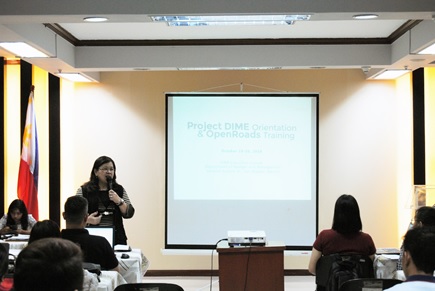 Undersecretary Lilia Guillermo during her in depth talk about Project DIME.
Day 1 focused on orienting the participants to Project DIME. Undersecretary Lilia Guillermo discussed the rationale of the project and the statistics with regard to the current conditions of projects together with Senior Budget and Management Specialist Edelita Ocampo.
Afterward, Engineer Nestor Olfindo from the Department of Science and Technology explained the use of remote sensing technologies, specifically high-resolution satellite imagery and LiDAR data. Engineer Kenneth Quisado, together with Allen Dale Sapungen, also discussed the monitoring and evaluation (M&E) process flow currently employed by the DIME central office team.
Day 2 served as an avenue for end-user integration to the Open Roads Platform.
Symph Founder and CEO Dave Overton presented the web-based app, discussed its features and capabilities. After the discussions, the participants did a hands-on data acquisition (i.e. geotagging) by roving around the DBM Central Office premises capturing images using their mobile phones as the main acquisition tool.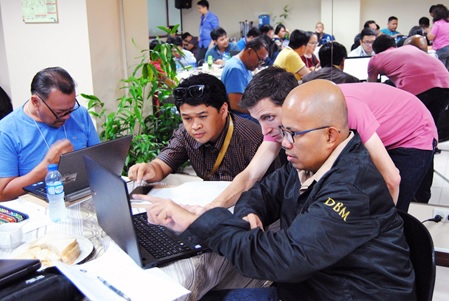 The participants discussed with Dave Overton during the hands-on training for the Open Roads webs-based platform.
Open Roads is an open source alternative for managing and tracking efforts of the government in infrastructure project development. It aims to give timely and updated overview of projects and sub-projects using the latest technologies accessible, which will eventually be integrated to the DIME Portal. The portal will serve as a single point of access to information regarding the project.
Project DIME is one of the Department of Budget and Management's (DBM) key reforms to implement the management side of its mandate to ensure that every dime of the people's money is spent well and to assist the implementing agencies in their provision of programs, activities, and projects.
(30)
For inquiries, further questions and requests for interview, please contact Marianne Ongjuco:
Email:

This email address is being protected from spambots. You need JavaScript enabled to view it.


Mobile: +63918-944-8109