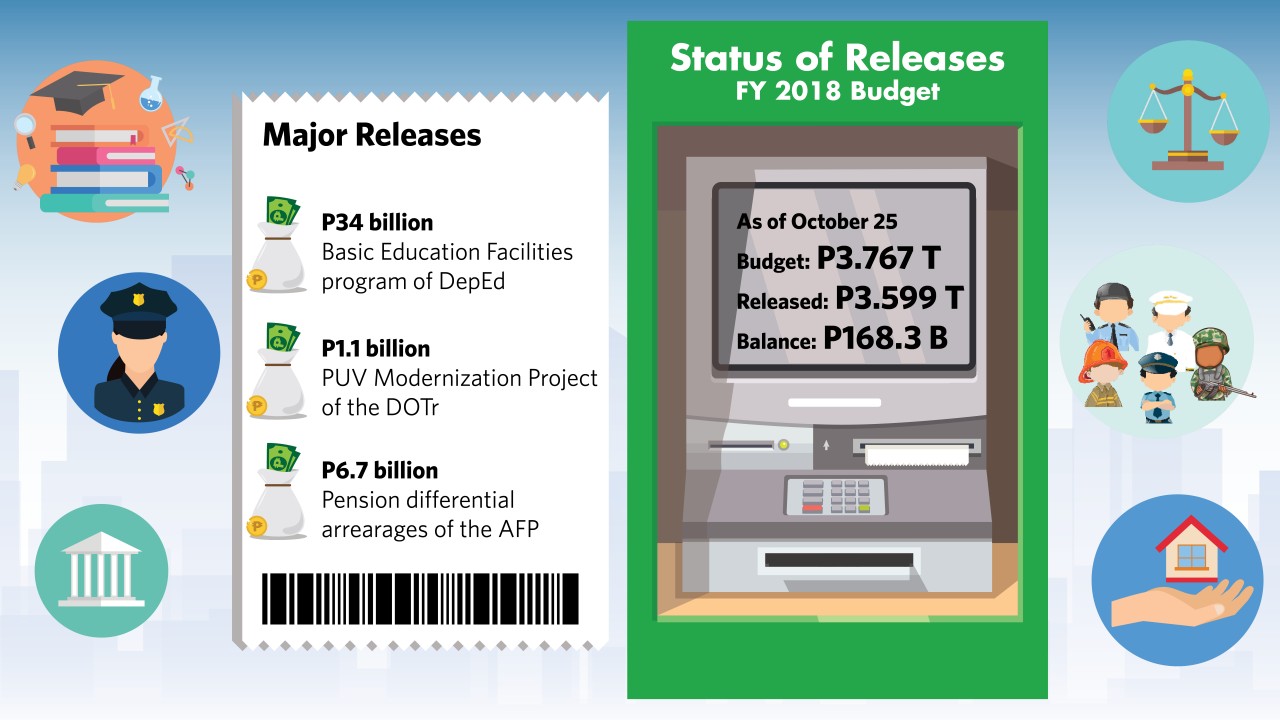 As of October 25, the Department of Budget and Management (DBM) has released PhP 3.599 trillion, or 96% of the PhP 3.767 trillion budget for fiscal year 2018. "We are in the fourth quarter of the year so we will secure the swift release of funds as authorized by the General Appropriations Act (GAA)," said Budget and Management Secretary Benjamin E. Diokno. "79% of the 2018 Budget was released in January 2018 and we have maintained the quick yet prudent pace of budget releases," he added.
Allotment releases issued by the DBM, enable agencies to incur obligations to finance the delivery of public services, such as roads and bridges, health and education services, and other poverty reduction programs and projects. In fact, allotment releases to the line departments have reached PhP 2.220 trillion, which is 97% of the programmed budget for government agencies. These include funds allocated for departments in the Executive branch, Congress, the Judiciary, and other constitutional offices.
Meanwhile, fund releases from Special Purpose Funds (SPFs) have amounted to PhP 397.1 billion, equivalent to 80% of the allocation to SPFs in the 2018 Budget. Most of the releases have come from the Budgetary Support to Government Corporations (BSGC), Miscellaneous Personnel Benefits Fund (MPBF), Pension and Gratuity Fund (PGF), and the National Disaster Risk Reduction and Management Fund (NDRRMF).
These lump sum funds are for specific programs and projects that have not yet been identified in the budget preparation phase, which are then released subject to special provisions or conditions authorized by the GAA. For instance, the PGF will finance the pension and retirement benefits of retiring uniformed personnel, while the NDRRMF may be tapped for the relief, rehabilitation, and reconstruction of communities in case of calamities such as a typhoon.
PhP 965.4 billion, or 98% of the program for Automatic Appropriations has also been released as of October 25. The Internal Revenue Allotment for local governments has been released in its entirety, amounting to PhP 522.7 billion this year. Other significant releases under automatic appropriations are for the purposes of interest payments and retirement and life insurance premiums of government personnel. Automatic appropriations are for programs and projects budgeted in the annual spending program by virtue of legislation, hence are "automatic" in nature.
Some major releases in October 2018 include: PhP 34.0 billion to the Department of Public Works and Highways (DPWH) for the implementation of the Basic Education Facilities program of the Department of Education (DepEd), PhP 1.1 billion subsidy to the Land Bank of the Philippines for the PUV Modernization Project, and PhP 6.7 billion to cover the pension differential arrearages of the Armed Forces of the Philippines (AFP).
"We will continue to provide updates on the status of the 2018 Budget as these are public funds," said Secretary Diokno. "Our people can count on the efficient and transparent release of funds care of the DBM," he concluded.
(30)
For inquiries, further questions and requests for interview, please contact Marianne Ongjuco:
Email:

This email address is being protected from spambots. You need JavaScript enabled to view it.


Mobile: +63918-944-8109