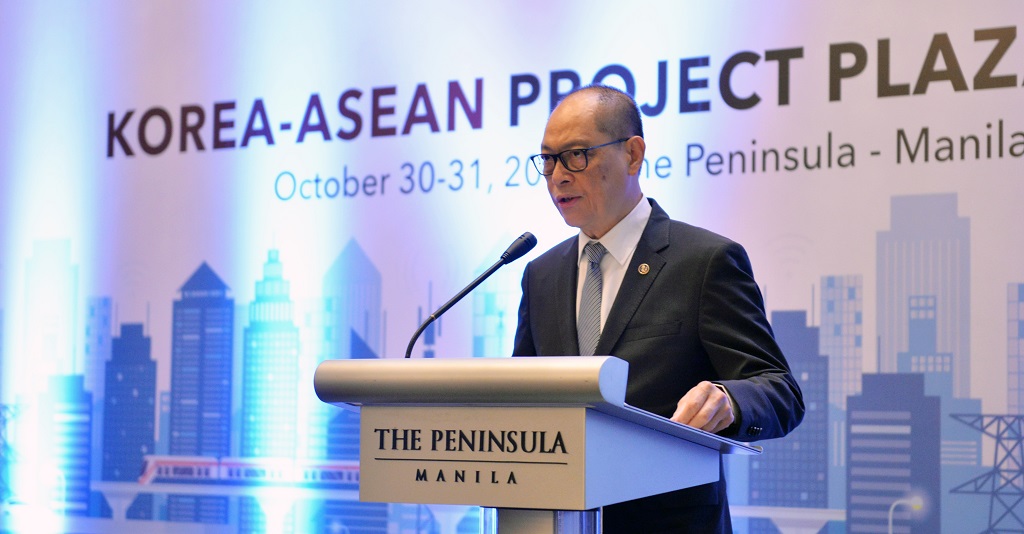 DBM Secretary Benjamin Diokno delivers his welcome address during the Korean-ASEAN Project Partnership Plaza at the Manila Peninsula Hotel on

October 30, 2018

.
"Our massive investments in infrastructure and human capital are clear proof that we are committed to transforming the Philippines into Asia's next success story," Secretary Benjamin Diokno emphasized as he delivered the welcome address in the Korea-ASEAN Project Partnership Plaza held on October 30, 2018 at the Manila Peninsula Hotel. Also present in the event were Korea Trade Director General for Economic Cooperation, Kim Seung Wook, and Korea Ambassador to the Philippines, Dong-Man Han
The event, hosted by the Korea Trade-Investment Promotion Agency (KOTRA), aims to fast-track growth in Southeast Asia by providing a platform for matching the project developers with prospective Korean and international partners in the region. The event was also aimed at introducing Korean companies who wish to participate in the various infrastructure development projects in the Philippines.
The Budget Chief spoke about the administration's ambitious Build Build Build infrastructure program, especially with regard to the financing mechanisms and budgetary allocations for infrastructure. "In the proposed FY 2019 Budget, P909.7 billion is allocated for infrastructure, which is equivalent to 4.7% of GDP," Secretary Diokno explained. Under this programmed allocation, road networks will receive the largest share of the infrastructure budget at P346.6 billion, or 38 percent of the total infrastructure program. This will be mostly comprised by various road and bridge projects of the DPWH.
Also, according to the Budget Chief, construction of flood control systems and irrigation systems will be allocated with P133.6 billion, and P26.3 billion, respectively. Likewise, construction of school buildings will have a budget of P37.6 billion in 2019. Further, Railway projects will have a budget of P24.6 billion in 2019.
"[Build Build Build] is indeed ambitious, but this will be a strategic move for the Philippines–perhaps the most significant of the reforms that the Duterte Administration will implement in pursuit of the President's agenda of change," Secretary Diokno said. "Inclusive and sustainable development is our commitment. And through realizing the Golden Age of Infrastructure, I am certain that the Philippines will meet real change."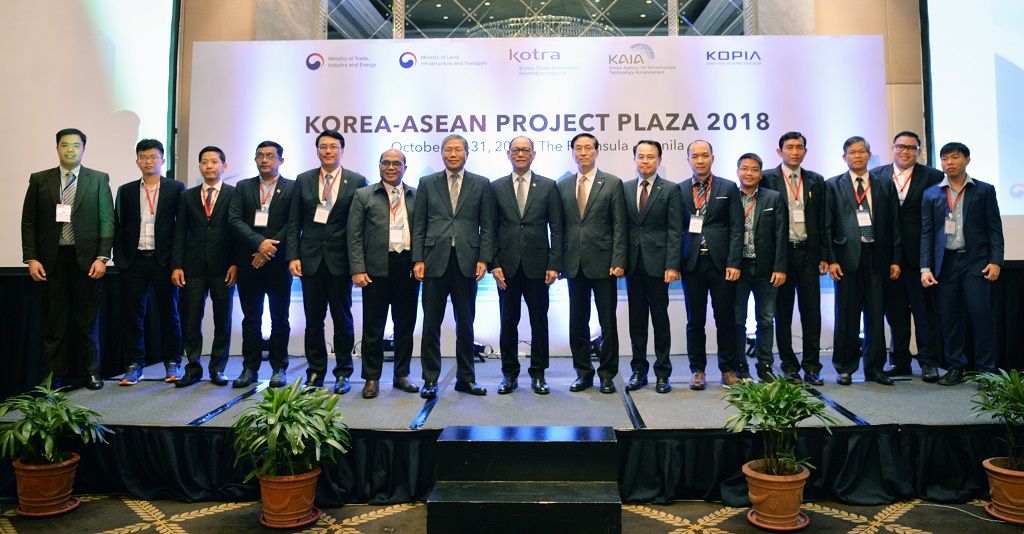 Secretary Benjamin Diokno is joined by KOTRA Director General Kim Seung Wook, Korean Ambassador Dong Man Han, and other speakers from various countries in Southeast Asia.
Meanwhile, other speakers in the conference discussed about infrastructure projects and developments in their respective countries, such as Vietnam, Indonesia, and Myanmar. Also present in the event were representatives from the Japan International Cooperation Agency (JICA) and the Asian Development Bank (ADB).
(30)
For inquiries, further questions and requests for interview, please contact Marianne Ongjuco:
Email:

This email address is being protected from spambots. You need JavaScript enabled to view it.


Mobile: +63918-944-8109