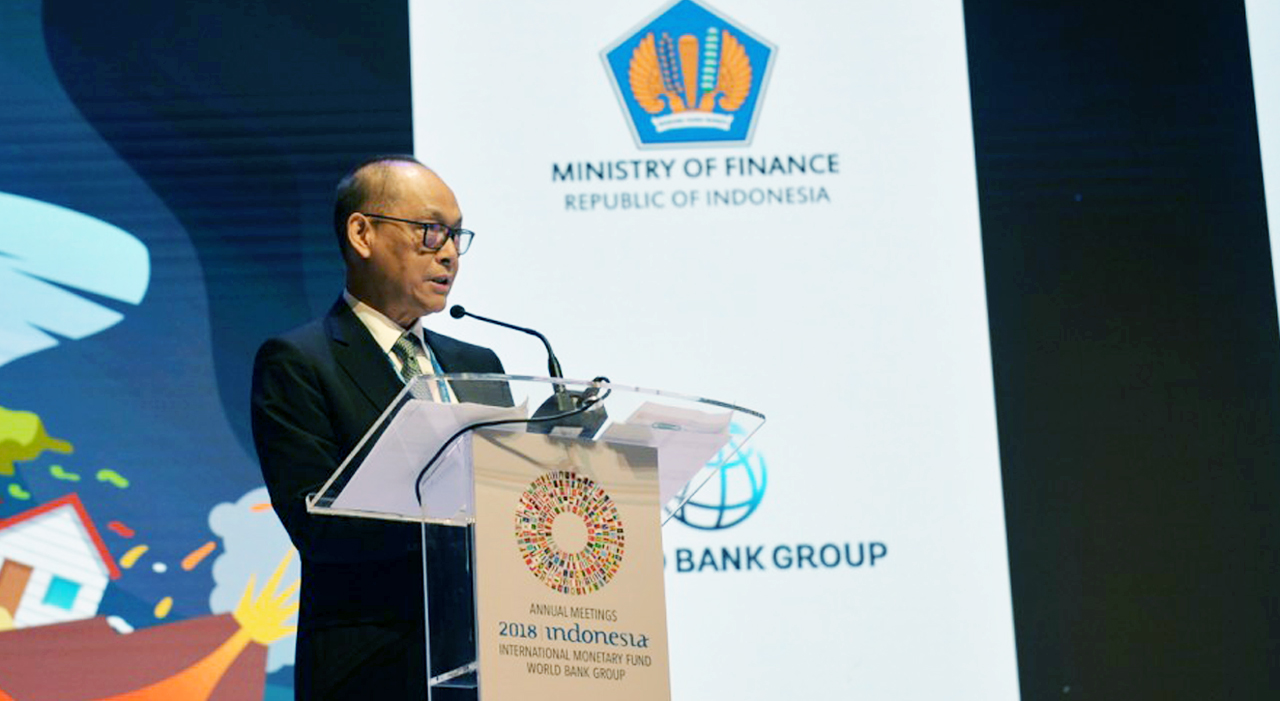 DBM Secretary Benjamin E. Diokno was a key speaker during the High-Level Dialogue on Disaster Risk Financing and Insurance (DRFI), one of the highlight events during the 2018 World Bank–International Monetary Fund Annual Meetings.
Secretary Diokno shared the Philippines' experience in DRFI, particularly on sources of financing, and budgetary instruments and trends.

According to the Secretary, financing for disasters should factor in "timing of post-disaster financing needs and longer terms costs of sources of financing."
"The Philippine government recommends combining different risk financing instruments to protect against events of different frequency and severity," he said.
"Risk layering [...] ensures that cheaper sources of money are used first, with the most expensive instruments used only in exceptional circumstances," he added.
He shared that the government has a standby loan facility that provides immediate liquidity in the aftermath of a disaster. Apart from this, the Bureau of Treasury has also secured a Parametric Insurance Policy from the Government Service Insurance System (GSIS) that offers payouts without need for actual assessment loss in the aftermath of disaster, but is triggered based on modelled losses generated using the Philippines' Catastrophe Risk Model.
The budget chief also discussed the different budgetary instruments available for disaster risk management and response, such as the National Disaster Risk Reduction and Management Fund (NDRMMF), Quick Response Fund (QRF), and Local Disaster Risk Reduction and Management Fund (LDRMMF).
He concluded by highlighting the importance of consolidating efforts among agencies working on disaster risk reduction and management. An apparent product of interagency efforts in the Philippines is the development of the Risk Resiliency Program (RRP), a nationwide investment program on climate change.
Agencies involved in the implementation of the RRP have adopted the Program Convergence Budgeting (PCB) policy of the DBM as a strategy. Through PCB, agencies are made to "work as one to meet common objectives, instead of competing for budgets."
"Through Program Convergence Budgeting, the RRP has allowed the government to improve targeting of climate investments," the Secretary shared. "You will see an increasing trend in the RRP budget [...] from 2.6% in 2014 to as high as 4.2% in 2018."
Other members of the speakers panel include World Bank President Jim Yong Kim, Indonesia Finance Minister Sri Mulyani Indrawati, Indonesia Public Workers and People's Housing Minister Basuki Hadjimuljono and Japan Deputy Vice Minister of Finance Yota Ono. Indonesian Vice President Jusuf Kalla gave the keynote speech during the event.
(30)