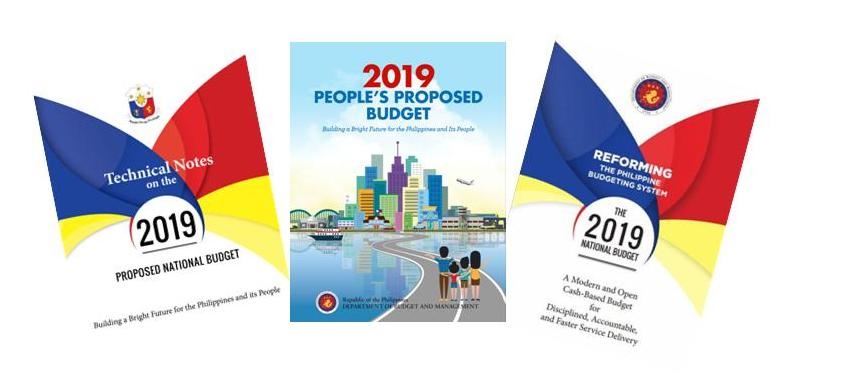 As part of its efforts to improve fiscal transparency, the Department of Budget and Management has released three publications on the 2019 Budget: (1) the 2019 People's Proposed Budget; (2) Technical Notes on the 2019 Proposed Budget; and (3) the Brochure on the 2019 Annual Cash-Based Budget.

The first two publications form part of the documents required in the Open Budget Survey, a biennial survey of the International Budget Partnership (IBP) which evaluates budget transparency and public participation in the budget process. The 2019 People's Proposed Budget presents a laymanized discussion of the proposed budget through the use of graphics and illustrations. The Technical Notes, on the other hand, provides a comprehensive narrative of the 2019 Budget, including the public finance policies and priority programs and projects, and how the proposed Budget is linked to the country's development blueprint–the Philippine Development Plan.
The third publication–the brochure on the 2019 Annual Cash-Based Budget–comes in two editions, one for national government agencies, and the other for state universities and colleges (SUCs) and government-owned and/or–controlled corporations (GOCCs). The said brochure explains the shift to the Annual Cash-Based Budgeting System which will be adopted in the 2019 Budget, as well as provides comparison between the 2019 Cash-Based Budget and the 2018 Budget. These publications are available in the DBM website.
"As we aim to be one of the top budget institutions in the world, we should remain steadfast in our commitment for fiscal openness that will make our budgeting system more transparent and accountable. Making budget information more accessible and comprehensive will foster greater understanding and budgeting and help spur citizen participation," DBM Secretary Benjamin E. Diokno said.
(30)
For inquiries, further questions and requests for interview, please contact Marianne Ongjuco:
Email:

This email address is being protected from spambots. You need JavaScript enabled to view it.


Mobile: +63918-944-8109