President Rodrigo R. Duterte approved the proposed 2019 national budget in a Cabinet meeting last Monday, July 9, held at the Malacanang Palace. The planned P3.757 trillion national budget for 2019, equivalent to 19.3% of Gross Domestic Product (GDP), is the first cash-based budget of the Duterte Administration, enabling the more efficient delivery of public services.
Cash-Based Budget for 2019
"The shift to cash-based budgeting will speed up the implementation and completion of priority projects of the government," said Budget and Management Secretary Benjamin E. Diokno. "In the past, agencies only had to obligate their funds or enter into contracts within the year for their budget to be considered spent," he added. "This will no longer suffice under a cash-based regime. We will impose fiscal discipline in the 2019 Budget as agencies will now be required to deliver goods and services in the fiscal year, and not just make promises to pay," said the Budget Secretary.
On a cash basis, the P3.76 trillion proposed budget for 2019 is higher by P439.4 billion, or 13.2%, than its equivalent in the 2018 budget at P3.32 trillion.
The transition to an annual cash-based system is part of the DBM's Budget Reform Program, which is envisioned to accelerate spending for development priorities like public infrastructure and human capital development. Initially, the lifespan of appropriations was reduced from two years to one year in the 2017 General Appropriations Act (GAA) via Presidential Veto. This was carried over to the General Provisions of the 2018 Budget, although still following an obligation-based system. "The annual cash-based budget for 2019 is the logical progression of the reform measures we have instituted in the last two years, and we will strictly implement it," said Secretary Diokno.
Budgetary Priorities
The priorities in the proposed 2019 budget remain to be infrastructure and social services. By sector allocation, Social Services accounts for 36.7% of the entire budget, reaching P1.377 trillion. This is followed by Economic Services (28.4%; P1.068 trillion), General Public Services (18.9%; P709.1 billion), Debt Burden (11.0%; P414.1 billion), and Defense (5.0%; P188.2 billion). Meanwhile, cash-based appropriations for infrastructure are set at P874.8 billion, equivalent to 4.5% of GDP.
By Expense Class, the P3.757 trillion cash-budget is divided as follows: Personnel Services (31.5%; P1.185 trillion), Capital Outlays (20.0%; P752.7 billion), Allotment to LGUs (17.1%; P640.6 billion), Maintenance Expenditures (15.0%; P562.9 billion), Debt Burden (11.0%; P414.1 billion), Support to GOCCs (5.0%; P187.1 billion), and Tax Expenditures (0.4%; P14.5 billion).
The 2019 President's Budget will be submitted to Congress on July 23, 2018, the day President Duterte delivers his third State of the Nation Address (SONA).
(30)
Proposed 2019 Budget, By Sector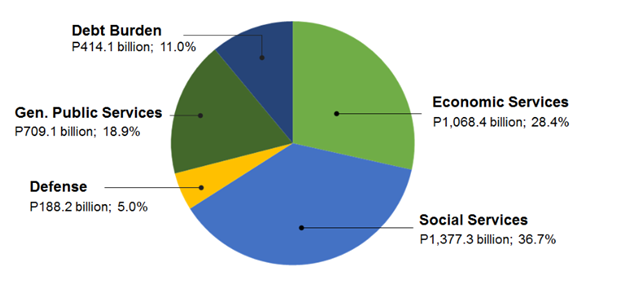 Proposed 2019 Budget, By Major Expense Items