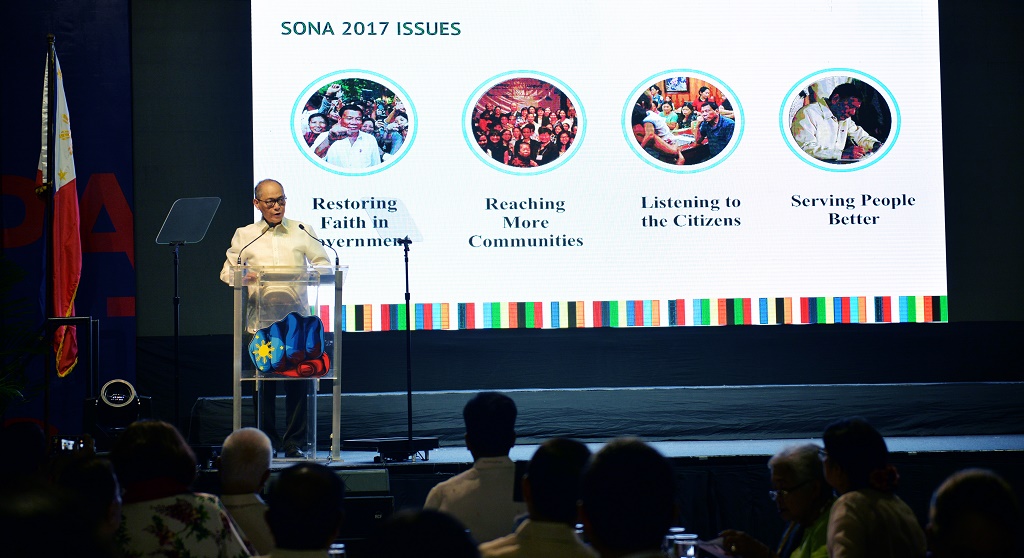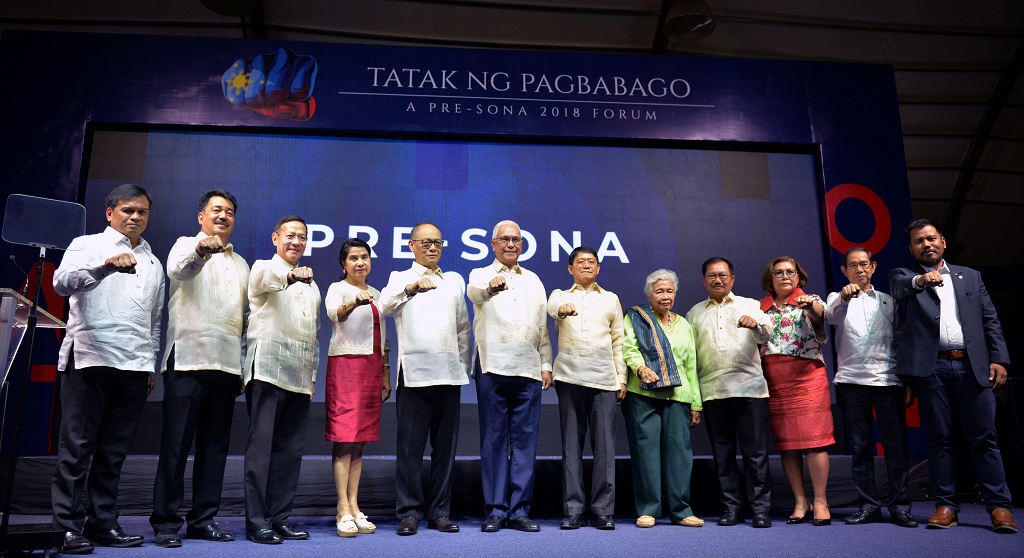 DBM Secretary Benjamin Diokno presented the Accomplishment Report and the Performance and Projects Roadmap of the Participatory Governance Cluster during the 'Road to SONA 2018: Tatak ng Malasakit at Pagkakaisa Forum' held this morning at the Philippine International Convention Center in Pasay City.
In his speech, Secretary Diokno stated that 97% of all national government units, and 1311 provinces, cities and municipalities have now made financial and procurement information publicly available through Transparency Seal and Full Disclosure Policy initiatives.
He also discussed the accomplishments of new or improved participatory governance initiatives of the government, including the Hotline 8888, Freedom of Information portal, National Government Portal (www.gov.ph) with 102 linked e-Services, Philippine Extractive Industries Transparency Initiative (EITI), and the Open Government Partnership platform.
According to Secretary Diokno, the administration plans to "continue the momentum" through the implementation of the Participatory Governance Cluster Performance and Projects Roadmap (PGC-PPR), a six-year roadmap outlining the priority Participatory Governance initiatives of the Duterte Administration.
Citizens' issues and concerns gathered during the series of Open Government Townhall Sessions held nationwide were "taken note of" and integrated in the roadmap, Secretary Diokno said.
In closing, Secretary Diokno affirmed that "participatory governance is at the front and center of the Duterte administration change and reform agenda".
The forum is one of three pre-SONA events aimed at showcasing the various accomplishments of the different Cabinet Clusters of the administration -- Participatory Governance Cluster, Infrastructure Cluster, Economic Development Cluster, Human Development and Poverty Reduction Cluster, Climate Change Adaptation and Mitigation and Disaster Risk Reduction Cluster, and Security, Justice and Peace Cluster.
The forum was attended by some 400 representatives from basic sector organizations, civil society organizations, business sector, academe, media, international development partners, local government units, and national government agencies.
(30)
For inquiries, further questions and requests for interview, please contact Marianne Ongjuco:
Email:

This email address is being protected from spambots. You need JavaScript enabled to view it.


Mobile: +63918-944-8109