Over 50 million Filipinos living in the country's cities can look forward to a healthier, more pleasant, and more relaxing life because of Green, Green, Green now in full swing.
Green, Green, Green, funded under the Local Government Support Fund - Assistance to Cities (LGSF-AC), is the government's public open space development program launched in 2017 by the Department of Budget and Management (DBM).
It assists the Philippines' 145 cities and their local government units (LGUs) in making their communities more livable, sustainable, and well-connected through the development or enhancement of public open space by creating esplanades, parks, arboretum, or botanical gardens, and building bike lanes, walkways, and green infrastructure.
The program is a parallel endeavor to the massive national infrastructure development program Build, Build, Build.
Last March, the DBM conducted technical workshops that engaged city mayors, engineers, architects, and planners in a learning session focused on the best practices in public open space designs, and policies and procedures for the implementation of the program.
Experts including award-winning landscape architect Paulo G. Alcazaren and former Pasig City Mayor, Architect Maribel Eusebio were guest speakers who encouraged the participants to come up with game-changing projects for their cities.
Afterwards, individual consultations with each city allowed DBM and its partner experts to review and propose improvements to the public open space project submissions.
Currently, 100 cities are now processing their project proposals out of the 143 that submitted their expression of interest to avail of the funding.
Cities are investing in a variety of public open spaces which they have identified as important civic spaces for their citizens. These include: institutional open spaces such as new government centers (10); public squares and plazas (20); mangroves (2); parks (54); waterfronts (25); streets (13). Another 19 cities are still finalizing their proposed site.
While it is commonly thought that there is simply no space left in cities to carve out open space, many cities are finding creative ways to reclaim space and improve everyday life for their citizens.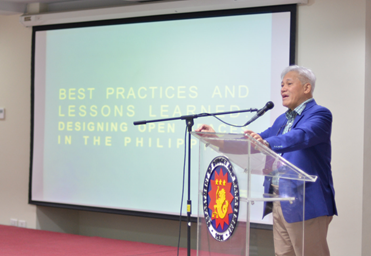 Landscape Architect Paulo G. Alcazaren speaks to the participants at the Green, Green, Green Technical Workshop on

March 15-16

, 19-20, 2018 at the DBM Multi-Purpose Hall, Manila.
Plaza Rehabilitation in San Juan City
In ancient Greece, the agora, which literally meant "an open place of assembly", was where citizens gathered to hear announcements, summon military troops, and discuss topics openly. It was the focal point of the political, athletic, spiritual, and artistic activities in the city.
Using their fund assistance of P4 million, the San Juan City LGU will activate the plaza by planting shade trees that will reduce the urban heat island effect and allow people to enjoy the place even on hot days. The planters will double as seating to be used during performances at the existing stage and for eating food from the on-site kiosks. Permeable, pedestrian-friendly pathways will link to establishments around the area.
Located in one of the busiest areas in San Juan, the plaza is situated next to a medical center and a few meters away from an elementary school, a big commercial center, and the LRT-2 J. Ruiz Station, which has an average daily ridership of more than 6,000 (2014).
In addition to the thousands of commuters who pass the area, the plaza will serve a residential population of around 50,000 who are within a 10-minute walking distance.
The Agora Plaza is envisioned as a center for family bonding, recreation, and relaxation.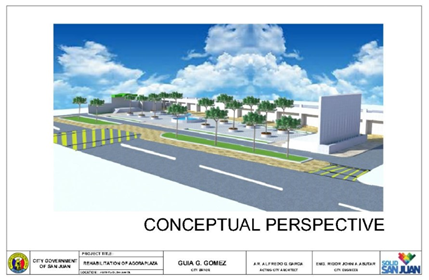 San Juan City proposed rehabilitation of Agora Plaza.
Park Redevelopment in Marikina City
Marikina City identified Park 15 in Barangay Marikina Heights as an underutilized area with great potential. Currently an open field with trees and a historic grotto, the city will focus on maximizing the space by transforming it into a park, complete with jogging paths, creekside flower paths, and bike lanes using eco-friendly pavements. The grotto will be given a setting worthy of a monument and in future phases the city aims to invest in an innovative playscape.
Connectivity to the site and within the park are crucial; a bridge, strategic pathways, and designated pedestrian crossings will allow people to move safely through the space.
Marikina City is allocated P15 million for this project.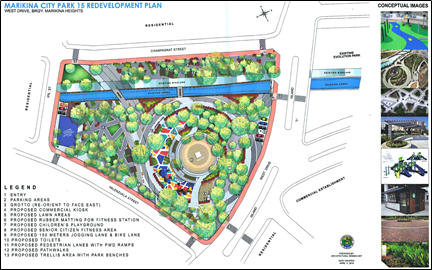 Proposed park redevelopment in Marikina City.
Park, Plaza, and Port in Dagupan City
Transforming underutilized spaces is Dagupan City's key to achieving liveability and sustainability.
In this city, a 4,610-square meter parking space will be converted into an exciting and functional public open space combination of an esplanade, plaza, and boat terminal.
The extensive project will also include the preservation of a main feature of the park - the historical Franklin Bridge, as well as the greening and beautification of the bridge's surroundings.
The Franklin Bridge, destroyed by a massive flood in 1935, was the only link connecting Dagupeños to the municipality of Lingayen. It reflects the city's earliest attempts to establish connectivity to its neighboring municipalities. Today, the city is linked by modern bridges, but still via water by boats.
The design designates a safe boarding area for bancas serving commuters and ferry boats serving tourists. It also includes a break water that doubles as a pier to enjoy views of the bay.
The project is funded by an amount of P6.7 million.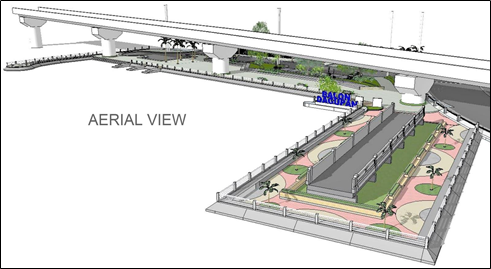 Dagupan City public open space project.
City governments often find that creating bike lanes, and even more so, parks and plazas, is challenging because of the lack of space. But many LGUs, like San Juan, Marikina, and Dagupan, are now becoming imaginative and resourceful with how they convert and maximize underutilized spaces in their communities.
Valenzuela City's Polo Park
Valenzuela City found an opportunity to add public space at an important intersection of local activity at the proposed Polo Park. In front of government offices and across a church on one side and a market on the other, the Polo Park is envisioned to be a place for pedestrian transit area and a place for respite.
The park will also double as an evacuation area in case of disasters.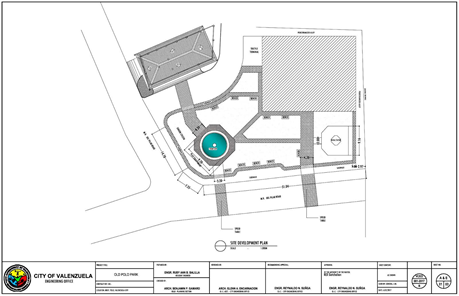 Proposed Polo Park in Valenzuela City
.
River esplanades in five cities
Article 51 of Presidential Decree No. 1067, or the Water Code of the Philippines, states that a minimum three-meter easement be allocated for public use along rivers and streams.
To maximize this space, the cities of Bacoor, Dasmariñas, and Bago will be redeveloping their waterways into parks designed to engage citizens and rejuvenate the area.
In Bacoor City, a new 3.6 kilometer riverwalk with bike lane will be constructed along Zapote River by its LGU through its P19 million funding assistance.
The riverwalk will also feature mini plazas at entrance/exit points and pathways connecting to the Battle of Zapote Bridge and the public market.
Dasmariñas City is pursuing the second and third phases of its Dasmariñas Riverpark which will be 1.3 kilometers upon completion.
The river park, located near Dasmariñas National High School and De La Salle University - Dasmariñas, will feature gazebos and various seating areas to welcome visitors to view the natural surroundings, while a jogging track will encourage exercise.
Meanwhile, Bago City in Negros Occidental will be developing the Bantayan Riverfront Park into a pedestrian- and bike-friendly space.
The existing road will undergo improvement in terms of accessibility and connectivity. A lane especially for pedestrians and another for bikers will be built, separated by a planting strip for added safety.
Seating areas will be placed near the edge of the river for a better view of the water. More trees and shrubs will be added for a more pleasant microclimate.
Smaller river parks in Malabon and Parañaque will also be built.
In Malabon City, the LGU plans to convert around 1,400 square meters of easement between two main bridges along Pinagsabugan Creek into a linear park using its P12 million fund.
While in Parañaque City, a promenade will be built on the reclaimed 480-meter-long easement along the river, linking communities along the river to the bay.
The river parks will provide residents with lanes for walking, jogging, and biking, as well as areas for social interaction and relaxation.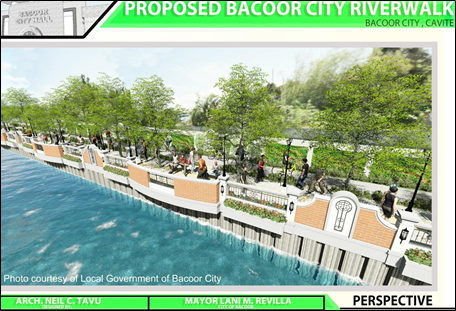 Proposed river park in Bago City.
Wet Park in Iligan City
Imagine a public open space that functions as a park on dry season and as a stormwater catch basin during rainy season. This is Iligan City's project for a frequently flooded site near their government center.
The wet park is in line with international best practices in surface water management and influenced by the water plaza projects in pioneering cities like Rotterdam in the Netherlands and Copenhagen in Denmark.
A true game-changer, the wet park's innovative design will help reduce flooding on-site and will be an inspiration for other cities to come up with inventive solutions to the challenges brought about by climate change.
The city is allocated P37 million for this project.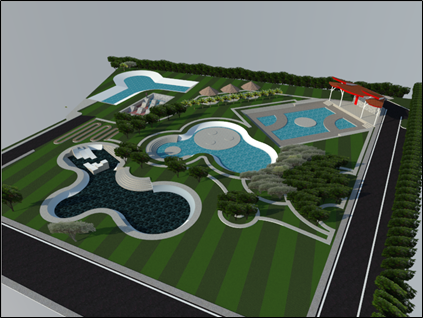 Proposed wet park in Iligan City
Mangrove Parks in the cities of Mandaue and Masbate
Found only in the tropics and subtropics, a mangrove forest is an ecological community connecting freshwater and saltwater environments. A mangrove forests' one-of-a-kind ecosystem is home to an incredible biological diversity.
In the face of climate change, mangroves perform a significant role in shoreline protection, acting as a buffer against strong winds and waves. Mangrove forests are also valuable in reducing greenhouse gas emissions as they absorb carbon five times more effectively than rainforests of the same size.
Two mangrove forest parks are currently being enhanced through Green, Green, Green Program - one in Mandaue City and another in Masbate City.
In Mandaue City Mangrove Eco-Park, a number of new facilities will be added, including an assembly area, bamboo boardwalk, and a viewing deck. These features will allow the park to accommodate more visitors and thus create more opportunities for people to appreciate the value of the mangroves.
For Phase 2 of the park, with P12 million funding from Green, Green, Green, the Mandaue City LGU will also build several facilities such as a receiving area, nursery, aquasilviculture, watchtower, and bird blind.
The park will be open to tourists and more than 300,000 residents of Mandaue City.
Similarly, Masbate City LGU is working on improving and completing their own mangrovetum using their P9 million funding assistance.
Besides reforestation, their project aims to upgrade pedestrian accessibility by building a convenient entrance to the boardwalk system as well as a drop-off driveway.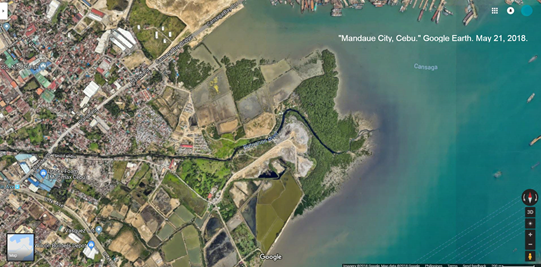 Aerial view of Mandaue City mangrove forest
.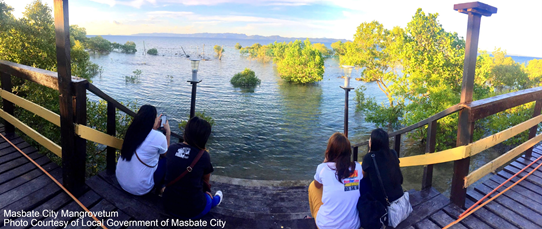 Masbate City Mangrovetum
.
Quezon City's streetscape project "Gora Lane"
The majority of public open space in any city is the network of streets. According to the NACTO Global Street Design Guide, which was given to each of the workshop attendees last March, and is available to all cities for free, streets are "public spaces for people as well as corridors for movement" and should be viewed as "dynamic spaces that adopt over to time to support environmental sustainability, public health, economic activity, and cultural significance."
Quezon City's proposal embodies these principles through their project called the "Gora Lane," taken from the popular Filipino slang that implies movement and most commonly used as an expression that means "Let's go!". And as its name connotes, the project aims to develop a network of pedestrian corridors on secondary local roads usually used as "alternate routes" that will connect the three transportation hubs found at the Southern part of the city.
This will provide the people, especially the affected communities, with a space that will let them "go to places" by increasing their mobility and access. This also aims to promote walking and biking by significantly improving the users' street experience.
The design, focused on the improvement of streetscapes, will feature better sidewalks, pocket parks and parklets, improved signage and wayfinding, added shade elements, and a spatial character for each segment of the site.
Gora Lane, with a fund assistance of P98 million, is expected to serve a total residential population of at least 200,000 in addition to at least 313,484 daily commuters traversing the area. The whole stretch of the lane measures 8.39 kilometers.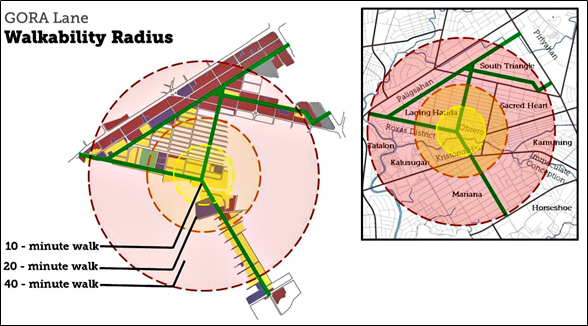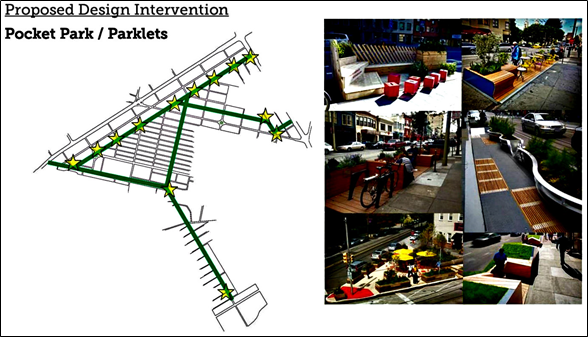 Historic Downtown Redevelopment in Antipolo City
In Antipolo City, the most important civic space is the Antipolo Cathedral and its surrounding streets and other open areas. The cathedral, home to the image of Our Lady of Peace and Good Voyage, is encircled by busy roads and establishments - schools, a hospital, transport terminals, restaurants, stores, and shops.
Thousands of people pass through this area every day, and this number even multiplies when countless devotees from all over the country make their yearly pilgrimage to the shrine of the Virgin of Antipolo.
As such, their city government is embarking on a redevelopment project that will overhaul and re-green the streetscapes and parks in this civic center. Their objective is to give the citizens a welcoming space to come together.
Antipolo trees, the city's namesake plant, will play a significant role in the greening of the area, while recalling the origin of the place.
An amount of P34 million will fund this city's project.
Redevelopment of waterfront boulevard in Zamboanga City
With a P74 million fund assistance, one of the biggest public open space projects under Green, Green, Green is that of Zamboanga City.
The city's project focuses on upgrading and connecting a major seaside boulevard and its neighboring thoroughfares in the waterfront city zone and heritage zone. Uniform and non-skid paving will be used to improve the appearance and safety of the streetscape while speed tables will be built to connect sidewalks, making the corridor friendly to people on foot.
Rows of native Zamboanga trees and shrubs will be planted along the esplanade to protect pedestrians and bikers from motorists on the carriageway. Seating areas will be built on the edge of the shore for a good view of the Sulu Sea.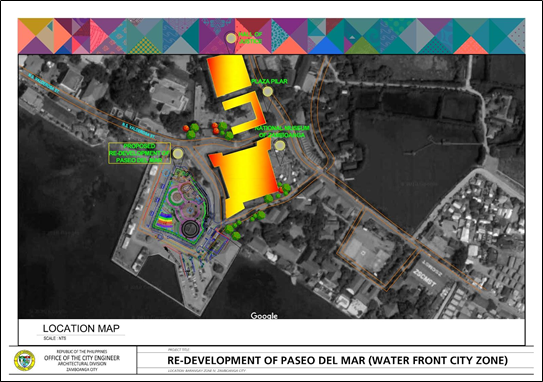 Caloocan City's nature park
Highlighting native plant species, Caloocan City's project focuses on the expansion of Caloocan Nature's Park in Amparo Subdivision.
The city is currently mapping all the tree species on the lush site and plans to feature a primarily native planting scheme to support biodiversity and showcase the unique local landscape. A series of pathways and decks will provide opportunities for visitors to appreciate the natural surroundings.
The city will also restore the lagoon which once served as a flood retention pond. While the swimming pool and cottage area are a ticketed, reservation-only facility, this extension will be free to the public.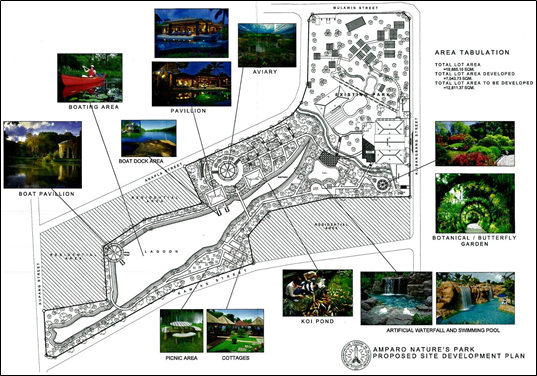 Green, Green, Green and the National Greening Program
The Local Government Support Fund - Assistance to Cities promises Green, Green, Green because cities and their people benefit from better air, shade, cooler climates, less flooding, and beauty. In line with the National Greening Program, the fund therefore aims to increase the softscape of a city.
However, what is planted matters. And not all green is the same. The National Greening Program and the Biodiversity Strategy and Action Plan thus encourage cities to "plant native" and "plant local". Doing so helps ecosystems thrive and prevents the endangerment of species.
Filipinos can thus expect to see commonly used native trees such as ditas, balayong, and mangium in the many projects under Green, Green, Green, as well as special appearances such as the Palawan cherry tree and rizophora - one of 39 species of Philippine mangrove - in projects where these are locally found.
For inquiries, further questions and requests for interview, please contact Marianne Ongjuco:
Email:

This email address is being protected from spambots. You need JavaScript enabled to view it.


Mobile: +63918-944-8109