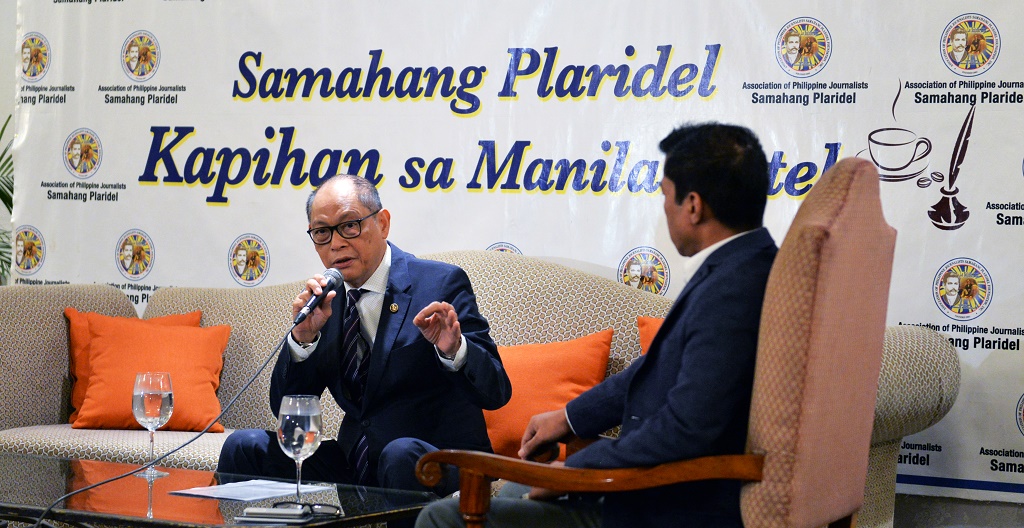 DBM Secretary Benjamin Diokno talks with media during Kapihan sa Manila Hotel on June 11, 2018.
Budget Secretary Benjamin Diokno assured the public today that TRAIN 2 or the second package of the government's tax reform program will be revenue-neutral.
Under the tax reform package, corporate income tax will be reduced to 25% from the current 30% to make it competitive with the tax rates of other ASEAN countries.

Some fiscal incentives, however, under the present tax scheme will be reviewed. But Secretary Diokno reiterated at the Kapihan sa Manila Hotel media forum this morning that there is nothing to fear because the scheme is revenue-neutral.
"Walang makakabig na additional revenue as a result of the reform (the tax reform package is revenue neutral)," Secretary Diokno said.

Secretary Diokno stressed that some incentives need to be reviewed as they are redundant while others are not necessary.

"Fiscal incentives won't be totally taken out," Secretary Diokno emphasized. "We just want to make sure that they will be performance-based and necessary," he added.
The budget secretary is also confident that investments will continue to come even if some incentives are dissolved.
"We will make corporate tax competitive with our neighboring ASEAN countries as we provide infrastructure and make labor competitive," Secretary Diokno stressed.
Secretary Diokno added that actual foreign direct investments the past year as reported by the Bangko Sentral ng Pilipinas hit 10 Billion USD, the highest ever. He also noted that pledges for domestic investments continue to rise.

Economic managers are also pursuing a general tax amnesty to encourage corporations to pay their correct income taxes.
(30)
For inquiries, further questions and requests for interview, please contact Marianne Ongjuco:
Email:

This email address is being protected from spambots. You need JavaScript enabled to view it.


Mobile: +63918-944-8109