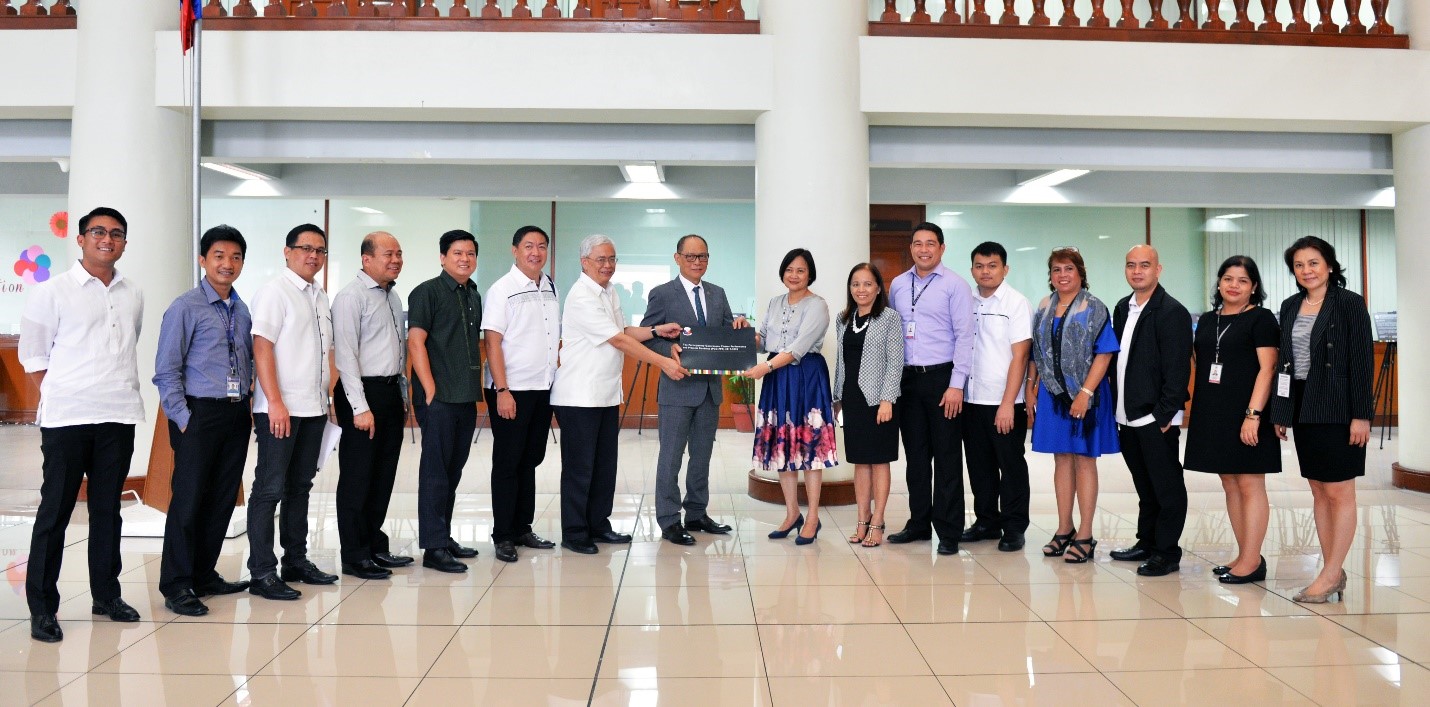 Participatory Governance Cluster (PGC) members, led by the Cluster Co-Chair and DBM Secretary Benjamin Diokno turns over the PGC Roadmap to OCS Assistant Secretary and Chief-of-Staff Evelyn Cruzada.
The Participatory Governance Cluster Performance and Projects Roadmap (PGC-PPR) 2017-2022 was approved and adopted today during the 3rd Official Meeting of the PGC held at the Department of Budget and Management.
The six-year Roadmap outlines the priority initiatives of the Duterte Administration that are aimed at making sure that citizens are consulted and engaged in governmental processes across all levels of the bureaucracy. It is a product of a 7-month long rigorous crafting process through collaborative workshops attended by more than 2,000 stakeholders from a multitude of sectors -- business, civil society organizations, basic sectors -- in different areas across the country.
PGC Chairperson, DBM Secretary Benjamin E. Diokno led the meeting into a discussion of the 2017-2022 PGC Performance and Projects Roadmap, which was updated after the recently-concluded Philippines Open Government and Participatory Governance Regional Dialogues series held in the cities of Bacolod, General Santos, Zamboanga, Tacloban, Baguio and Quezon City.
"We are proud to say that this is a plan that has truly been co-created with citizens and weaved with the Philippines' Open Government narrative-- embodying good governance values such as transparency, accountability, people's participation, and technology for better governance," Secretary Diokno said.
According to Assistant Secretary Evelyn Cruzada of the Office of the Cabinet Secretary, the PGC roadmap is being used as a model for other Cabinet Clusters in developing and implementing their own roadmaps. Each Cabinet Cluster is expected to present their roadmaps to the President before he gives his State of the Nation Address.
"Let us keep up the outstanding work and continue to set a good example to our peers," Secretary Diokno encouraged the representatives from the PGC-member agencies present during the meeting.
The Participatory Governance Cluster shall be engaging the other five (5) Cabinet Clusters -- Infrastructure Cluster, Economic Development Cluster, Human Development and Poverty Reduction Cluster, Climate Change Adaptation and Mitigation and Disaster Risk Reduction Cluster, and Security, Justice and Peace Cluster -- in the hopes that they will address issues that have emerged from the different fora and dialogues organized by the PGC Secretariat.
(30)