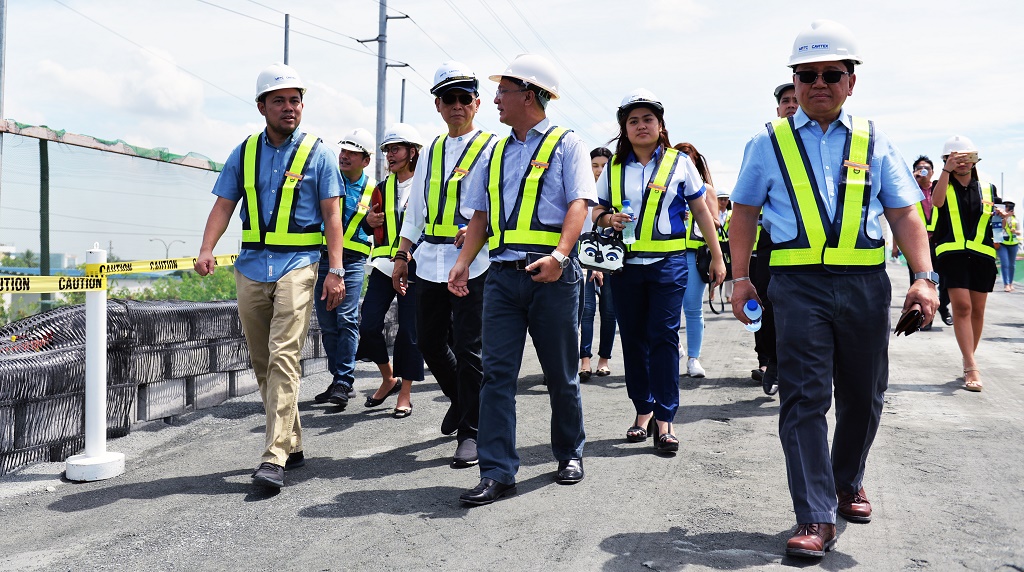 DPWH Secretary Mark Villar and DBM Secretary Benjamin Diokno inspect CAVITEX with representatives from MPTC and DPWH.
In a meeting with Budget Secretary Benjamin Diokno and Public Works Secretary Mark Villaron June 1, 2018, the Metro Pacific Tollways Corporation (MPTC) provided updates on major infrastructure projects covering south of Luzon. The project summary includes the C-5 South Link Expressway Project, the Cavite Expressway (CAVITEX) Segment 1 Enhancement Projects, and the Cavite-Laguna Expressway Project.
The C-5 South Link Expressway Project, which costs PhP 13.6 Billion, is expected to be completed by the second quarter of 2019 for Segment 3A I. Other segments of the expressway will be completed within the year 2020.
The C-5 South Link will provide an expressway connection between R-1 Expressway to C-5 Road. This is seen to reduce travel time and induce a higher development impact to Southern Luzon.
The MPTC has also laid out enhancement projects amounting to PhP 807 Million for CAVITEX Segment 1. These enhancements include the Marina Left Turning Facility and R-1 Widening, which will be completed by third quarter of 2018, and the Pacific Drive Upgrading and R-1 Bridge Widening, which will be completed by third quarter of 2019. MPTC affirms that these improvement projects shall generate a higher level of service, improve safety, and increase operational efficiency.
Meanwhile, the Cavite-Laguna Expressway Project, which amounts to a total of PhP 20 Billion, will reduce travel time from CAVITEX to South Luzon Expressway (SLEX) by 45 minutes. This road is seen to be a development catalyst, as it will open up employment opportunities for people living in nearby areas, and will further hasten the delivery of commodities.
The Laguna Segment of this project will be completed by second quarter of 2020, while the Cavite Segment will be completed on the fourth quarter of the same year.
These infrastructure projects are in line with this administration's ambitious Build Build Build Program. This bold program aims to usher in the Golden Age of Infrastructure in the Philippines and features 75 big-ticket projects to boost economic activity, attract investments, create jobs, and provide an affordable and comfortable public transport system for Filipinos.
(30)
For inquiries, further questions and requests for interview, please contact Marianne Ongjuco:
Email:

This email address is being protected from spambots. You need JavaScript enabled to view it.


Mobile: +63918-944-8109