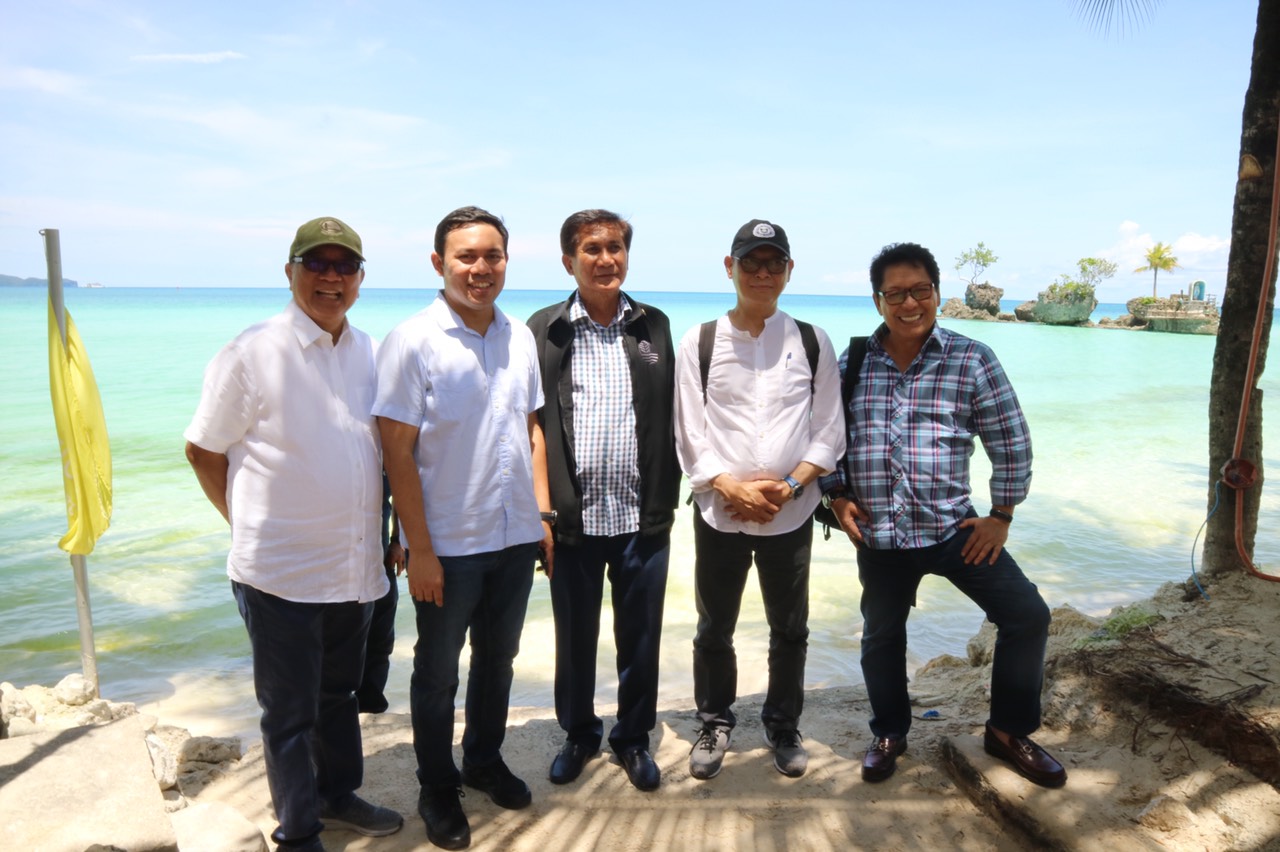 From L to R: Aklan Governor Florencio Miraflores,

DPWH Secretary Mark Villar, DENR Secreatry Roy Cimatu, DBM Secretary Benjamin Diokno, DOLE Sectretary Silvestre Bello III. (May 18, 2018)
In an Inter-Agency Meeting held last May 18, 2018 in Haven Suite, Boracay, Aklan, Task Force Boracay presented a total estimate for the budgetary requirements of the various rehabilitation efforts being undertaken by its member agencies in the six-month closure period of the island. A sum of around 1.36 billion pesos is expected to cover the cost of providing social safety nets, ensuring health and sanitation, decongesting the Island, enforcing rule of law, engaging stakeholders, and, crafting and implementing a Medium-Term Rehabilitation and Recovery Program.
In a previous statement, DBM Secretary Benjamin Diokno said that the budgetary requirements for the island rehabilitation will be sourced from the budgets of the government agencies involved, pending a consolidated budget request from Task Force Boracay. Funds may also be sourced from the Contingent Fund or the Calamity Fund. Finally, should agency programs or projects for the Boracay rehabilitation spill over into Fiscal Year (FY) 2019, agencies may also propose these in their Tier-2 budget proposals for the 2019 Budget.
The spillover is to be expected, according to the Budget Chief, as rehabilitation efforts will not stop with the opening of the island and will continue on with the implementation of the Medium-Term Rehabilitation and Recovery Plan.
"I'm confident that once Boracay reopens in a few months, that it will be a more attractive destination for our tourists," Secretary Diokno said. "Of course, our work will not stop there. A long term plan is needed to ensure the entirety of the island is not only beautiful, but structurally sound and environmentally sustainable."
A number of major infrastructure projects are currently being undertaken in the area. P490 million has been released to the Department of Public Works and Highways (DPWH), to fast-track the implementation of the Boracay Circumferential Road augmentation project in Aklan. This is in addition to the P50 million allocation in the FY 2018 General Appropriations Act (GAA).
The Tourism Infrastructure and Enterprise Zone Authority (TIEZA) is also spending around P8-10 million from its own budget to rehabilitate the island's waste water management system by constructing temporary outfalls, opening drainage systems, and declogging critical areas.
(30)
For inquiries, further questions and requests for interview, please contact Marianne Ongjuco:
Email:

This email address is being protected from spambots. You need JavaScript enabled to view it.


Mobile: +63918-944-8109