Profile
Benjamin Estoista Diokno (born March 31, 1948) is the current Secretary of Budget and Management of the Philippines under the administration of President Rodrigo Duterte.[1] He held the same position under President Joseph Estrada, from July 1998 until Estrada's ouster in January 2001.[2][3] Diokno also served as Undersecretary for Budget Operations at the Department of Budget and Management, from 1986 to 1991, during the administration of President Corazon Aquino.[4]
During the Aquino administration, Diokno provided technical assistance to several major reforms such as the design of the 1986 Tax Reform Program,[5] which simplified income tax and introduced the value-added tax (VAT), and the 1991 Local Government Code of the Philippines.[6]
During the Estrada administration, Diokno initiated and instituted several reforms that would enhance transparency and improve the efficiency of the delivery of government services. The first major reform instituted was the "what you see is what you get" or WYSWIG policy that is a simplified system of fund release for the General Appropriations Act (GAA). This allowed agency heads to immediately plan and contract out projects by just looking at the GAA, which is available in print and at the DBM website, without waiting for the issuance of an allotment authority.[7] Diokno initiated the reform of the government procurement system (GPS) through the adoption of rapidly improving information and communications technology. He secured technical assistance from the Canadian International Development Agency (CIDA) to help the GPS develop an electronic procurement system along the lines of the Canadian model. By August 1999, the DBM had two documents necessary to initiate reforms in public procurement. In early 2000, Diokno and USAID successfully concluded a substantial technical assistance program for the DBM's budget reform programs, which now included procurement reform.[8] Other budget reforms instituted by Diokno concerned procedures for payment of accounts payable and terminal leave/ retirement gratuity benefits. The release of cash allocation were programmed and uploaded to the department's website while payments were made direct to the bank accounts of specific contractor.[7]
Diokno finished his bachelor's degree in Public Administration from the University of the Philippines (1968), and earned his master's degree in Public Administration (1970) and Economics (1974) from the same university. He also holds a Master of Arts in Political Economy (1976) from the Johns Hopkins University in Baltimore, Maryland, USA and a Ph.D. in Economics (1981) from the Maxwell School of Citizenship and Public Affairs, Syracuse University in Syracuse, New York, USA.
He is Professor Emeritus of the University of the Philippines-Diliman.
He served as Fiscal Adviser to the Philippine Senate. He also served as Chairman and CEO of the Philippine National Oil Company (PNOC) and Chairman of the Local Water Utilities Administration. He was also Chairman of the Board of Trustees of the Pamantasan ng Lungsod ng Maynila (City University of Manila).
In his third tour of duty as Budget Secretary, he intends to pursue an expansionary fiscal policy to finance investments in human capital development and public infrastructure. In addition, he seeks for the passage of a Budget Reform Bill to ensure the compliance of future budgets with the pertinent laws of the land. He also aims to re-organize and professionalize the bureaucracy with a Government Rightsizing Act.
He writes a column for BusinessWorld,[9] Southeast Asia's first daily business newspaper.
Speeches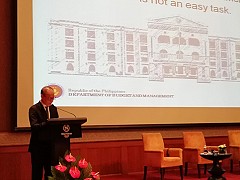 Secretary Benjamin E. Diokno, PhD
Department of Budget and Management
Esteemed guests, ladies and gentlemen, good morning/good afternoon! It is an honor to be amongst the most noble and daring reformers of Southeast Asia and Korea, to share ideas on public sector reforms in and for our respective countries in particular, and for the region in general, from the perspective of a wider lens and a profound yet pragmatic discourse. But before I share some of the Philippines' major development strategies and experiences in this regard, under the leadership of President Rodrigo Roa Duterte, allow me to thank the Korea Research Institute of the University of New South Wales, Australia for organizing this very important event, which would definitely expand our knowledge understanding, as we learn from country experiences. Without further ado, let me now bring to the table some of the key game-changing reforms from the Philippines, which have helped secure and maintain the country's place as an...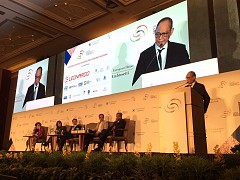 12 April 2018 | 4:45 - 5:00 PM | Shangri-La, Singapore
Secretary Benjamin E. Diokno, PhD Department of Budget and Management (DBM) Now, we're in the end of this high-level dialogue on ASEAN-Italy economic relations, so hang in there. First, let me thank Ambrosseti for having me here. To the esteemed investors in attendance, fellow public sector officials, members of the academe, guests, ladies and gentlemen: Good afternoon. I have listened with a lot of interest and I'm impressed with the quality of the conversation. Much has been accomplished in this high-level dialogue cutting across nationalities and sectors. For all our takeaways and learnings, I'm sure the common sentiment in this room is the need to promote greater cooperation, and the need to do more. ASEAN has much to offer to the global community, and yes to the Italians. The ASEAN region is a burgeoning powerhouse with a consumer base of more than 600 million people. With a relatively younger population and being home to...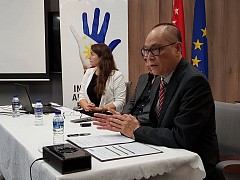 Italian Chamber of Commerce in the Philippines
April 13, 2018 | 9:45 am – 10:05 am | Unicredit, Singapore Secretary Benjamin E. Diokno Department of Budget and Management To the members of the Italian Chamber of Commerce in the Philippines, investors, and esteemed guests: Good morning. As I speak here today, my job is to convince you of two things: First, that the Philippines is on its way to becoming Asia's next economic tiger; and second, that the various technological innovations that we have introduced shall improve immensely the ease of doing business in our country. The slogan of this administration, "Change is coming", articulates the government's goal of being a catalyst of real change in the Philippines. We acknowledge that the role of any democratic government is clear: it should be people-centric. It must serve its people and provide a better quality of life for its citizens. This principle is what we strive to live through everyday. We endeavor to achieve inclusive...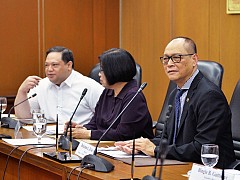 April 10, 2018 | 1:00pm | PICC, Pasay City Secretary Benjamin E. Diokno Department of Budget and Management Securities and Exchange Commission (SEC) Chairperson Teresita Herbosa, Procurement Service (PS) Executive Director Bingle Gutierrez and ComClark-PhilCox Varco Technosolutions' Mr. Edwin Lazaro;
friends from both government and the private sector, good morning.
Today, we are here to witness the signing of the contract for the Company Investments and Financial Statistics System (CiFSS) of the Securities and Exchange Commission.
As I understand, the CiFSS will serve as the central database for all the data that it receives from all the corporations it monitors. In the era of Freedom of Information, this is an all too important step in making sure the large amounts of data we have can be translated into useful information for those who wish to use them.
I am especially excited by how this effort will help open up avenues for economic research on Philippine Corporations. The ease of...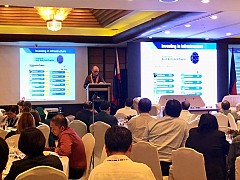 Mindanao Today, Mindanao Tomorrow Forum
April 6, 2018 | Marco Polo Hotel, Davao City
Secretary Benjamin E. Diokno
Department of Budget and Management To MinDA Secretary Alonto, World Bank Country Director Mara Warwick, and PBSP Chairperson Miguel Dominguez, to my colleagues in the government and the academe, to our participants from various sectors of civil society, magandang hapon po sa inyong lahat. Today, upon the request of the Bank, I have the pleasure of sharing with you the plans the administration has in store for Mindanao, particularly on key development priorities we are financing. Before I begin my presentation, I would like to congratulate the World Bank on the very comprehensive and incisive Mindanao Jobs report. I am happy to note that we are on the same page on the major constraints hampering the region's growth, and we generally agree on how we ought to move forward to ensure that growth in the region is strong, sustainable and inclusive.
The Mindanao Growth Narrative
Mindanao...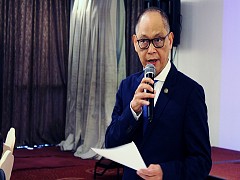 3 April 2018 | Ace Hotel and Suites
Secretary Benjamin E. Diokno, PhD Department of Budget and Management (DBM) Good afternoon everyone and thank you for your time and effort in attending this workshop. Today, we, the Management Committee will embark on an important activity which will greatly influence the performance and success of our Department. We have had a number of planning sessions in the past two years to map out our goals and strategies consistent with our mandate. I think it is fitting that we follow these up with a workshop on risk and opportunity calibration as we continue our march to be one of the best budget institutions in the world. After all, goals and strategies mean nothing in the absence of proper risk-accounting and planning for contingencies. Being the seasoned leaders of the DBM, we have both the technical capacity and experience to anticipate and guard against risks that would undermine the achievement of our objectives. So my first message is that of...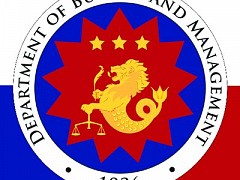 23 March 2018 | 1:40 pm – 1:55 pm | PICC, Pasay City
Secretary Benjamin E. Diokno Department of Budget and Management (DBM) To the officials from various national government agencies (NGAs), and government-owned and controlled corporations (GOCCs), and representatives of constitutional offices and the Judiciary: Good afternoon. Today, we take one step further in our most ambitious Budget Reform agenda. This reform initiative represents the collective wisdom and shared experiences of many people in the bureaucracy. It incorporates best practices, observed around the world, to boost efficiency and accountability in public spending. Most importantly, it institutionalizes the many reforms that we have sought to implement in the past two years. Hence, it is with great pride that we will share with you today the important features of the Budget Reform Program. Various speakers and panelists will shed light on the practical details of our initiative, ranging from cash management, impact to...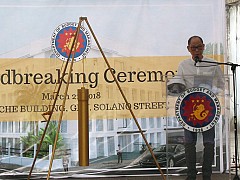 March 21, 2018 | 8:00 am Arcache Building, Gen. Solano Street Secretary's Message Secretary Benjamin E. Diokno, Ph.D. Department of Budget and Management
To my colleagues in the DBM, ladies and gentleman, good morning.
We are gathered here today for the groundbreaking ceremony of our new office building. Before we formally begin, allow me to give you some quick information about our new Arcache Building.
First, this building will be environment-friendly. Solar panels will be installed. A sewage treatment plant will be put in place to recycle used water to be used as toilet water for flushing. And an Energy Recovery Ventilator will be installed to pre-heat or pre-cool the building depending on the humidity and temperature. This building will house the PhilGEPS Office on the first floor. The second floor will house the archives, a conference room, and the GPPB Executive Room. The DBM Regional Offices for Regions IV-A and NCR will occupy the third floor. Lastly, the fourth floor will...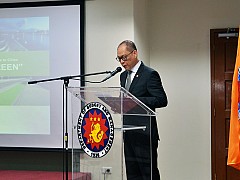 March 19, 2018 | DBM Multi-Purpose Hall Secretary Benjamin E. Diokno, Ph.D. Department of Budget and Management To our Mayors, City Engineers, Architects, Urban Planners, and Civil Servants, good morning and welcome to the DBM. The Philippines' urban population has increased to more than 50 million in the past fifty years. According to the World Bank Group, this number will balloon to 102 million by year 2050, accounting for more than 65% of the Philippines' total population. With rising urban density, we have to make sure our cities remain livable. We have to ensure our citizens' are safe, healthy, and mobile, and that their daily activities are not interrupted by any increase in congestion and pollution that may come with an expanding population. On many occasions, I have discussed the administration's ambitious 'Build, Build, Build' infrastructure program. We want to alleviate traffic and increase mobility for our commuters by spending approximately 8 to 9 trillion pesos...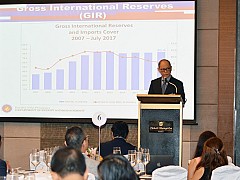 De La Salle University - International Studies Department
Conference on the Role of Regional Cooperation in fulfilling Philippine Development Vision: Inclusive Growth, Infrastructure Development, and Human Resource Enrichment
9 March 2018 | 9:00-9:30 | Fairmont Hotel Makati
Secretary Benjamin E. Diokno, Ph.D.
Department of Budget and Management To my colleagues in government, friends in the academe, students, participants from civil society, good morning. As Budget Secretary, I am primarily concerned with fiscal policy, particularly on spending. But as one of the economic managers in the administration, and an economist by training, I am usually asked to give lectures and answer questions beyond fiscal policy or the national budget. Today I have the pleasure of kicking off this conference by giving an overview of the current state of the Philippine economy. I am happy to oblige as I have come to accept that it comes with the territory. Allow me to begin by addressing three of the...