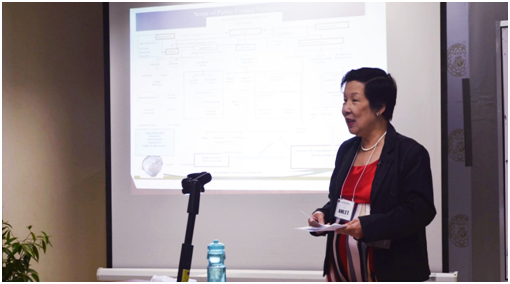 DBM Assistant Secretary Amelita Castillo welcomes the participants from various government agencies.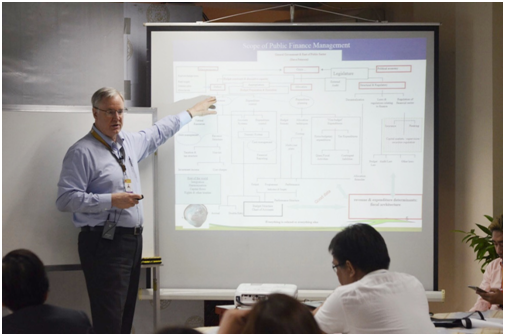 Dr. Steve Peterson, Course instructor, presents a diagram showing the scope of Public Financial Management.
The Department of Budget and Management (DBM) is hosting an eight-week Executive Program on Public Financial Management (PFM). The Course, which will run every Friday starting today until December 8, 2017, intends to build professionalism in PFM by providing officials with a systematic overview of key issues in PFM, as well as bridging silos in PFM fields such as budgeting and accounting. It likewise aims to empower officials in the implementation of the budget reforms by equipping them with the necessary PFM knowledge and skills and promoting government ownership in the design and implementation of the reforms.
"As we push for the Budget Reform Bill, which if enacted will drastically change our budget processes, we need to be well-versed on the fundamentals of a sound public financial management (PFM) system and how these can be applied in the Philippines," Assistant Secretary Amelita D. Castillo said as she welcomed the participants to their 'first day of classes.'
"We are lucky that Prof. Steve Peterson, who has trained over 1,600 senior government officials from 54 countries, has graciously volunteered to teach all of us," she added.
Prof. Peterson, who will handle all nine (9) sections of the course which he has delivered for 25 years at the Harvard Kennedy School of Government, is currently a professor of Public Finance in the Melbourne School of Government of the University of Melbourne and has more than 35 years of experience in advising governments on PFM.
The first day of the Course, which tackled the Overview and Frameworks of PFM and the Budget
Constraint, was attended by 35 officials and senior staff from the Commission on Audit, Department of Finance, National Economic and Development Authority, Department of Public Works and Highways, Department of Social Welfare and Development, and the DBM.
In the discussion, Prof. Peterson stressed the importance of managing fixed costs such as salaries and pensions which eat up a big portion of the budget.
The next session will be held on October 27 and will cover the following topics: Assessing PFM Systems and How Budgets and Accounts are Organized.