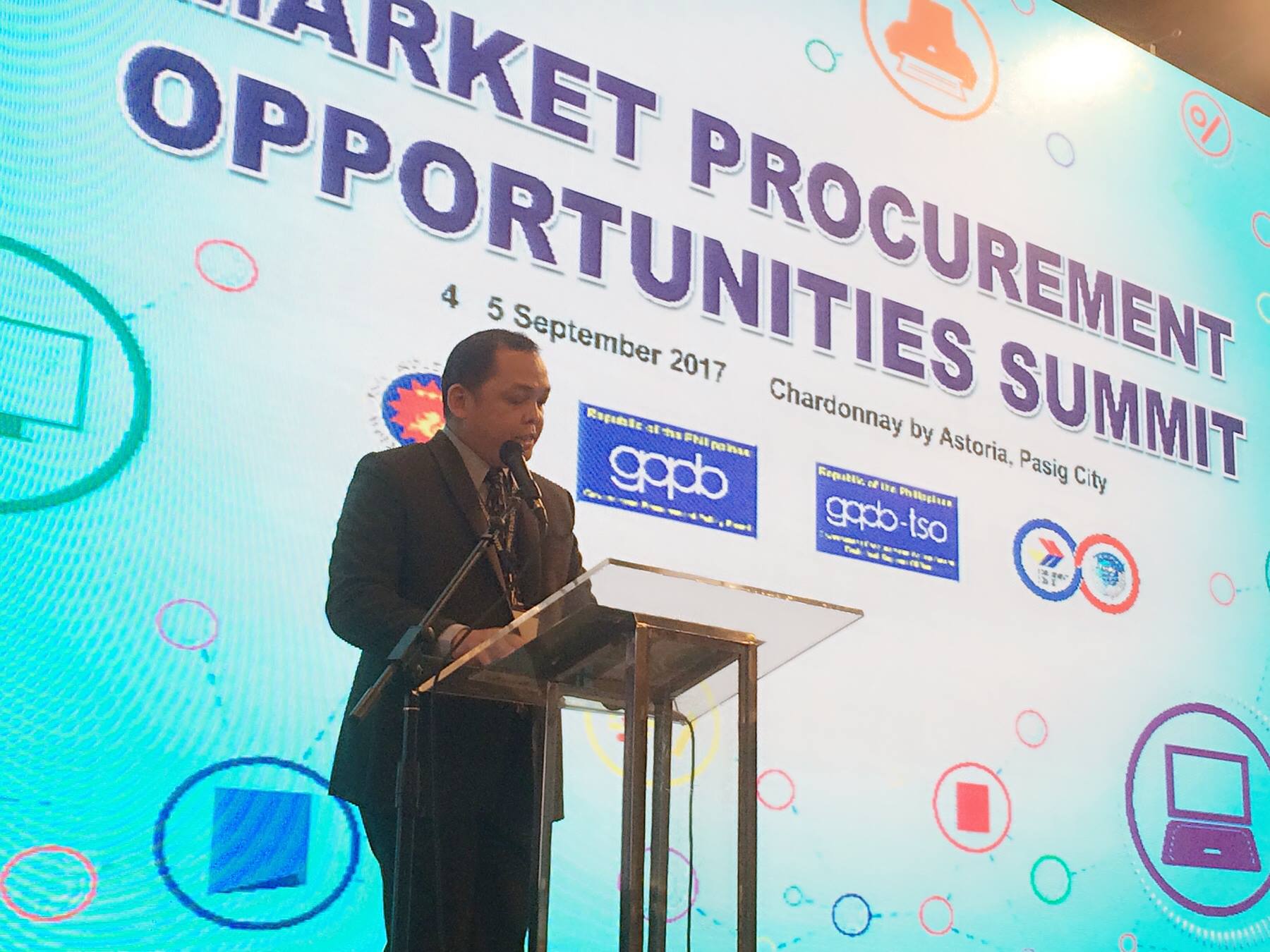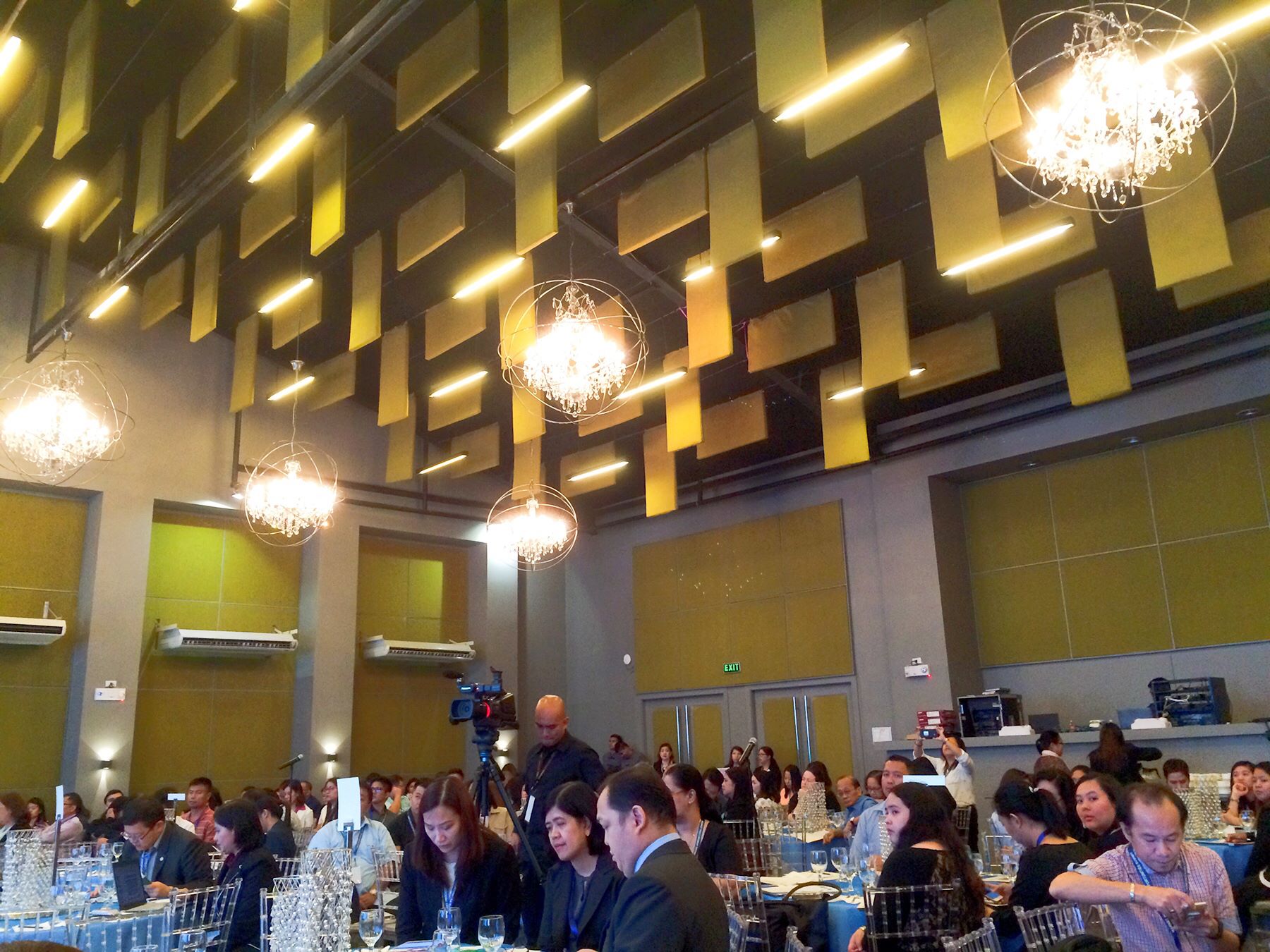 The Government Procurement Policy Board-Technical Support Office (GPPB-TSO), together with the Procurement Service-Philippine Government Electronic Procurement System (PS-PhilGEPS), brought together procurement practitioners from various government agencies and the private sector in a two-day forum entitled Market Procurement Opportunities Summit on September 4-5, 2017 in Pasig City.
The Market Procurement Opportunities Summit, the first of its kind, is conducted by the GPPB-TSO to "provide a platform for government agencies to showcase programs, activities and projects that are up for procurement this 2018, and introduce prospective suppliers, contractors, and consultants to their requirements," according to Department of Budget and Management (DBM) Secretary Benjamin E. Diokno's welcome address, which was delivered by GPPB-TSO Executive Director V Atty. Dennis Santiago.
"The government is the single largest buyer in the market, spending a significant portion of its budget, around 10-20% of the GDP, to procure goods, infrastructure projects and consulting services in order to fulfill its mandate. Meanwhile, the zealous participation of the private sector in competitive public bidding ensures that the government gets value for its money," relayed Atty. Santiago.
The Budget Secretary related the important role of Government Procurement to the Duterte administration's bold and ambitious infrastructure project, "Build BuildBuild", emphasizing that the success of national infrastructure projects for transportation, water resources, sewerage and sanitation, flood management, solid waste management, maritime, social infrastructure, energy, information communications technology, and many others, relies on the private sector'sknowledge of the necessary information to be effective partners of the government.
The GPPB-TSO through the Summit, also endeavors to "inform both government and private procurement practitioners of the updates in the revised Implementing Rules and Regulations (IRR) of Republic Act No. 9184 or the Government Procurement Reform Act (GPRA), which became effective last 28 October 2016."
The updates in the revised IRR of the GPRA reflect the government's thrust to simplify and modernize government procurement, attract excellent partners from the private sector, and thus expedite public service delivery.
Some of the updates on the revised IRR focus on issues such as (1) poor procurement planning, delay in budget approval, delay in procurement, and underspending; (2) lack of members to constitute the Bids and Awards Committee (BAC); (3) low turn-out of procurement observers; (4) poor specifications; (5) non-refundable fee for bidding documents; and (6) disqualification of bidders/failure of bidding due to documentary requirements.
Seeing that the Market Procurement Opportunities Summit is an important and productive event to the government as well as to many private firms, the GPPB-TSO and its mother agency, the DBM, plan to make it an annual event that will facilitate and significantly improve the cooperation between the government and private business entities.
For more information on the Market Procurement Opportunities Summit, visit www.gppb.gov.ph and www.dbm.gov.ph. Follow @DBMgovph on Facebook and Twitter for updates. To access DBM Secretary Diokno's Opening Remarks at the Summit, go towww.dbm.gov.ph/?page_id=17466.