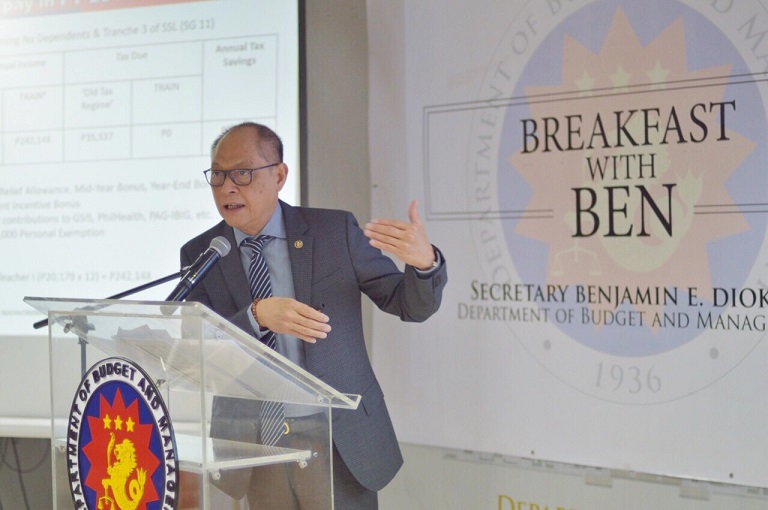 Department of Budget and Management Secretary Benjamin E. Diokno holds a press briefing in DBM on January 17, 2018.
DBM Secretary Benjamin Diokno categorically stated that he is "not opposed to the increasing the salaries of our teachers" in a press conference this morning at the DBM Central Office.
"I understand the crucial role teachers have in nation-building and I do believe they should be rewarded accordingly," he said.
Teachers' Compensation with SSL and TRAIN
According to the budget chief, the take-home pay of teachers has already increased this year with the implementation of the Third Tranche of Salary Standardization Law (SSL). Furthermore, government personnel, including teachers, may expect another round of salary adjustments with the Fourth Tranche of SSL set to be implemented in 2019.
Currently, an entry-level public school teacher (Teacher 1), having Salary Grade 11 under Tranche 3 of the SSL, earns a monthly salary of P20,179. Annually, he/she will enjoy bonuses and allowances of P74,358[1]. This rounds up the monthly compensation package of teachers to P26,375. By 2019, their monthly salaries will increase to P20,754 and their total annual bonuses and allowances will increase to P75,5081, rounding up their monthly compensation package to P27,046, or P671 more per month.
At the same time, the significant reduction in taxes with the lower personal income tax rates imposed by TRAIN will significantly increase the take-home pay of teachers. In fact, a Teacher 1 is tax-exempt under the TRAIN law as his/ her annual taxable income falls below P250,000. Additional take home pay due to lower taxes for Teacher 1 will amount to P35,537, 176% of his/her monthly salary.
The combined effect of the increase in salary from the SSL and lowered tax rates due to the implementation of TRAIN law will result to an additional take home pay of P43,363 per year. In 2019, annual tax savings will increase to P37,262 as it is indexed to salary. Additional take home pay due to SSL and TRAIN increase to P45,312.
Budgetary Impact of Doubling the Salaries of Teachers
The DBM estimates that doubling the salaries of teachers in 2018 will require an additional P343.7 billion in Personnel Services (PS) costs. In the 2018 GAA, the programmed PS costs for teaching positions is set at P381.1 billion. Doubling the salaries of teachers will require PS costs of about P724.8 billion, implying a financing requirement of P343.7 billion.
The DBM Secretary cited the budgetary impact as the reason behind previous statements in which he cautioned against the doubling of teachers' salaries. He clarified that the President's instruction is "to look into increasing their salaries, not doubling them". "We have to ensure that our public sector deficit remains manageable," the Budget chief said. "Financing this P343.7 billion may require hiking the deficit from 3% of GDP to 5% of GDP, and it may put at risk the excellent international financial standing the Duterte Administration has built over the past 18 months," the DBM Secretary said.
"Alternatively, we may raise more taxes or reduce other expenditure items," Sec. Diokno mentioned. "Raising P343.7 billion is a monumental task," he said. "Consider that Package 1A of TRAIN is expected to deliver about P90 billion in revenues, yet this is only about one-fourth the amount needed to finance the doubling of salaries of teachers," the Secretary added.
On the other hand, the DBM Secretary also cautioned against sacrificing spending for other Budget priorities such Build Build Build, Free College Tuition, Marawi Rehabilitation, the Cash Transfer Programs of the government, among other things. "We must think and prioritize long-term solutions for our country's development and for the people's general welfare." Sec. Diokno said.
Public School Teachers' Salaries vs Private Sector
Secretary Diokno also cited two recent studies done in 2015 and 2016 by Towers Watson as commissioned by the DBM and by Dr. Rosario G. Manasan, respectively. Both studies show that the pay for public school teachers are significantly higher than their private sector counterparts. Towers Watson shows that an entry level teacher makes 46% more than his/her private sector counterpart. Meanwhile, Dr. Manansan found that pay in public schools is much more stable and constant across regions compared to private schools.
At around First Quarter of 2019, the DBM will commission an independent firm to do a benchmarking on the salary of teachers and other government personnel such as doctors, nurses, and lawyers. Based on the results of this study, the DBM will propose the appropriate level of compensation for government workers.
"We recognize the important role of our teachers. However, we would prefer to let the third and fourth tranches of SSL run their course before we propose a new scheme," the Secretary said.
(30)
---
[1] amount excludes Performance-Based Bonus (PBB)
For inquiries, further questions and requests for interview, please contact:
Email:

This email address is being protected from spambots. You need JavaScript enabled to view it.


Mobile: +63918-944-8109