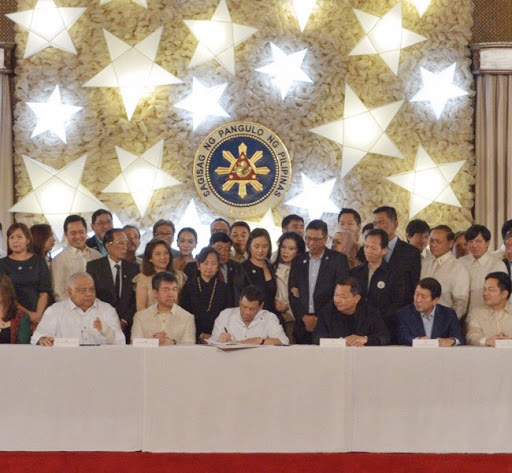 President Rodrigo Duterte vetoed a number of provisions in the FY 2018 General Appropriations Act. In sum, four provisions were directly vetoed, 28 provisions were placed under conditional implementation, and four provisions were met with general observations, out of the 176 provisions and new revisions introduced by Congress.
The President's veto actions prohibit the unauthorized use of income by government agencies, besides the utilization of earmarked revenues as governed by special laws.
Four special provisions have been subjected to Direct Veto, rendering such provisions "inoperative". These items are:
(a) OEO-MTRCB Special Provision No. 2 "Monitoring Expenses of Board Members"
(b) General Provision No. 87 "Collection of Fees in Relation to the Retention or Reacquisition of Philippine Citizenship"
(c) DepEd- OSEC Special Provision No. 14 "Use of School MOOE for Payment of Items that may be classified as CO
(d) OEO-ERC Special Provision No. 2 "Use of Income"
The first three provisions are deemed unconstitutional, thus meriting the president's direct veto. The OEO-ERC Special Provision No. 2 "Use of Income" results to a double programming of income sources, and as such, it was recommended that the ERC should instead ensure the efficient use of its GAA and automatic appropriations.
Meanwhile, twenty-seven special and general provisions have been placed under Conditional Implementation. Conditional implementation requires issuance of guidelines in the implementation of the provision in question.
Two provisions, the creation of the revolving fund for DOST Research and Development Institutes and the use of collections by the Dangerous Drugs Board, were placed under Conditional Implementation for possible "double programming", or use of income that has already been identified as funding sources for the budget. Use of income may be allowable for these agencies in the event of excess revenue.
Other items under Conditional Implementation are those identified by DBM as requiring compliance with conditions or submission of requirements prior to release of allotment.
All increases and decreases in the appropriations and new budgetary items introduced by the Congress are subject to special budget release. As a consequence, agencies are directed to adjust the outputs and outcomes that correspond to such items.
The efficient use of the budget remains as a top priority of the President as he has once again adopted one year validity of appropriations.
This requires that any unused funds at the end of one fiscal year by government agencies should revert back to the general fund, driving the agencies to spend their budget with a greater sense of urgency.
As one of the final points in the message, the President reiterated his trust in the Congress to implement in faithful observance the constitutional mandate of salary standardization and prohibition on grant of additional or double compensation to government personnel. He also directed the Executive Branch and the Constitutional Fiscal Autonomy Group (CFAG), such as the Judiciary, the Commission on Audit, the COMELEC, and the like, to exercise shared fiscal responsibility over the budget.
(30)
For inquiries, further questions and requests for interview, please contact:
Email: This email address is being protected from spambots. You need JavaScript enabled to view it.
Mobile: +63918-944-8109
Telephone: (+632)-735-4847
Twitter: @DBMgovph
Facebook: www.facebook.com/DBMgovph