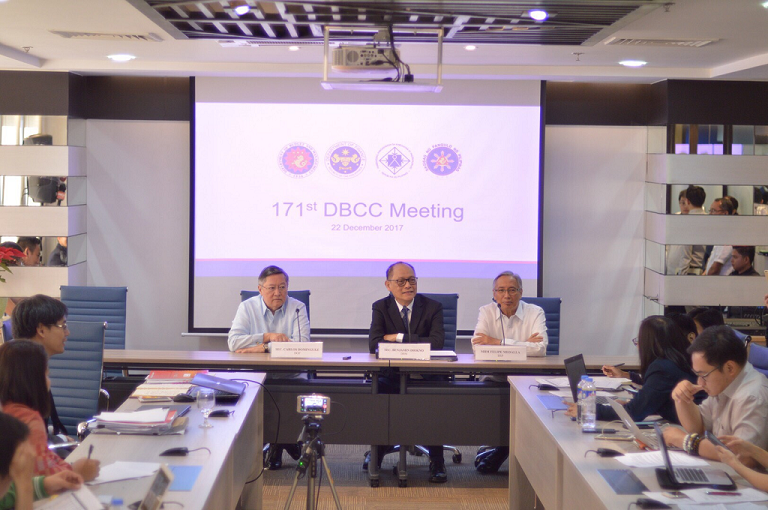 The Development Budget Coordination Committee (DBCC), chaired by Department of Budget and Management (DBM) Secretary Benjamin Diokno, convened on December 22, 2017 at the Department of Finance Board Room to deliberate on the government's medium-term fiscal program. The DBCC is mandated to recommend to the President the level of annual government expenditures and the proper allocation of government resources, subject to the prevailing economic and fiscal conditions.
Joining Budget Secretary Diokno were the principals of the four other member agencies of the DBCC, namely: Department of Finance (DOF) Secretary Carlos Dominguez III, National Economic and Development Authority (NEDA) Secretary Ernesto Pernia, and Deputy Executive Secretary for General Administration Mr. Michael Ong from the Office of the President (OP). Resource persons from the Bangko Sentral ng Pilipinas (BSP) were also present, particularly BSP Director Zeno Abenoja and Monetary Board Member Dr. Felipe Medalla.
Medium-Term Fiscal Program
The medium-term fiscal targets of the government were updated by the DBCC with regards to revenues, disbursements, and the financing of borrowings. This is in light of the developments and projections in fiscal and economic conditions in the medium-term.
The DOF proposed the medium-term revenue program inclusive of the revenue-generating effects of the recently passed Tax Reform for Acceleration and Inclusion (TRAIN). The DBCC then approved the said medium-term revenue targets proposed by the DOF.
The DBCC-approved revenue program for FY 2018 is pegged at P2.789 trillion, or 16.0% of GDP, rising to P4.388 trillion, or 17.3% of GDP, in 2022. The first package of TRAIN, which lowers personal income tax rates while raising excise taxes on numerous products, is projected to contribute a net amount of P82.3 billion in FY 2018. This could go higher given the vetoed provisions on the TRAIN law.
Moving on, the DBCC-approved disbursement target is set at P3.313 trillion for 2018 rising to P5.149 trillion in 2022.
With respect to the deficit and the planned financing mix, the DBCC stands by the 3.0% of GDP deficit ceiling. The financing mix will also continue to favor domestic borrowings. For 2018, there is a slight adjustment as the government is projected to borrow 74% from domestic sources, while 26% will be from foreign sources. For 2019 to 2022, the government's borrowing program is projected to follow an 80-20 mix in favor of domestic sources.
The national government debt ratio is also projected to continue its downward trajectory from 42.0% in 2017 to 37.9% in 2022.
"The medium-term fiscal program is geared to support the development objectives of the Duterte Administration," said Budget Secretary Benjamin Diokno. "We will ensure that all the revenues collected and monies disbursed will be for the benefit of our people," he added.
For more information on the Department of Budget and Management, visit: www.dbm.gov.ph and follow @DBMgovph on Facebook and Twitter.
(30)
MEDIUM-TERM FISCAL PROGRAM (171st DBCC Meeting)