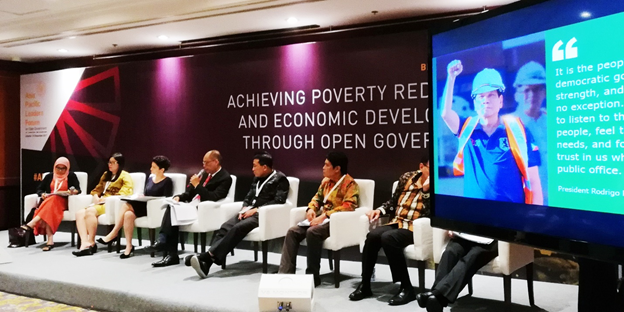 (IN PHOTOS) Sec. Benjamin Diokno talks about openness in the Golden Age of Infrastructure in the Philippines in a panel session with other foreign leaders and ministers.
Jakarta, Indonesia – DBM Secretary Benjamin Diokno reiterated the importance of open government partnership in ensuring the effectiveness and efficiency of any public sector undertaking, especially the ambitious Build Build Build infrastructure program of the Duterte administration. This was discussed by the Budget Chief as he led the Philippine delegation to the 2017 Asia Pacific Leaders' Forum (APLF) on Open Government, held on December 14, 2017 at Hotel Borobodur in Jakarta, Indonesia.
"The citizens can be our strongest allies in developing and improving government programs, that will increasingly be responsive to the needs of our people," Diokno remarked during the event's ministerial roundtable discussion.
With the theme, "Open government for inclusive development", the APLF featured leaders and ministers from various countries for a series of parallel sessions and round table discussions aimed at encouraging partnerships towards more open or transparent governments. The forum further intended to reinvigorate political leadership for open government in the region, allowing ministers to go on the record with support for open government and OGP, and to build relationships with each other to encourage cross-country learning.
Also, the forum sought to provide a space for the exchange of information, knowledge, experience and practices in utilizing the open government platform and/or applying open government principles to help achieve more inclusive development. The APLF also facilitated collaboration and partnership between and among development partners– central governments, local governments, civil society, private sector, educational institutions, multilateral agencies, and the media – to work together to find ways to bolster individual efforts in promoting transparency, accountability, and inclusive governance that potentially leads to a more inclusive development. Lastly, the forum sought to encourage and inspire government reform efforts horizontally (between agencies at the central government level) and vertically (among agencies at the local government level) as well as across countries to collectively promote open government for inclusive development and the adoption of reforms that put citizens first.
The Budget Secretary participated in the ministerial roundtable discussion, which featured a dialogue on government and civil society efforts in promoting open government for inclusive development. This includes efforts on digital government, service delivery, poverty reduction, economic growth, environmental sustainability, transparency and anti-corruption, and accountable institutions.
Diokno highlighted the administration's ambitious infrastructure program, dubbed as the "Golden Age of Infrastructure in the Philippines" as one of the country's flagship programs towards the fulfillment of inclusive development.
"When we speak about growth and sustainable development, we know that a requisite to boosting the economy is good and efficient infrastructure… We aim to address the inadequacies in Philippine infrastructure through the "Build, Build, Build"—an ambitious program that will pour 160 to 180 billion US dollars on our flagship infrastructure projects in the medium-term," Diokno explained in front of other ministers from various countries.
The Budget Chief also acknowledged how the whole concept of an open government is pertinent to the achievement of the goals of the Philippines' ambitious infrastructure program, "In implementing a program as huge as "Build Build Build", we also ensure that the principles of transparency, accountability and citizen engagement are key elements in all phases of the program cycle—from planning and budgeting to implementation and monitoring of projects.
Further, Sec. Diokno explained the administration's focus on human capital development as another requisite for the country's progress. "Education is a great equalizer. So, under our social services budget, we have allocated more than 12 billion US dollars for basic education and around 140 million dollars for technical-vocational training programs," Diokno noted.
The Duterte Administration is serious in its pursuit for real change. All efforts are geared towards sustaining the economy's growth momentum and improving the lives of Filipinos. "I think with our shared goals, and our heart for public service and for the welfare of our people, we can truly push for real and genuine change to happen here and now," the Budget Chief concluded.
For more information, visit www.dbm.gov. For regular updates, follow the official Facebook and Twitter account of DBM: @DBMgovph.