Latest Issuances
More in CIRCULAR LETTER LOCAL BUDGET CIRCULAR JOINT MEMORANDUM CIRCULAR

News Releases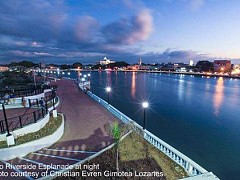 February 16, 2018, Manila
A unique assistance program that aims to make the country's cities more livable and sustainable through the development of public open spaces is being initiated by the Department of Budget and Management (DBM). With a funding of P2.5 billion, the assistance program is a parallel endeavor to the government's massive national infrastructure development program, "Build, Build, Build", and in close collaboration with local government units. The program will support city governments in creating a "breathing space" by enriching open spaces through the establishment of parks and gardens, upgrading streets and waterfronts, and revitalizing plazas. It will also improve the connectivity and accessibility of spaces by constructing eco-friendly bike lanes and walkways.
Urban population and the urgency of investing in public open space development
According to the World Health Organization (WHO), 54% of the 7.2 billion world population in 2014 resided in urban areas,...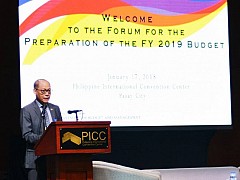 The Department of Budget and Management (DBM) conducted a forum on the execution of the FY 2018 budget and the preparation of FY 2019 budget on January 16-17, 2018 at the Philippine International Convention Center (PICC) in Pasay City. Attended by budgeting, planning, and accounting unit heads from different National Government Agencies (NGAs), Government-Owned or Controlled Corporations (GOCCs), and Government Financial Units (GFIs), the forum aimed to provide a platform for government agencies to discuss the guidelines for formulation and submission of agency budget proposals, as stipulated in the Budget Call for FY 2019. In his opening remarks on the first day of the forum, DBM Secretary Benjamin E. Diokno thanked the participants for their hard work which allowed the timely submission and approval of the budget for 2018. He also emphasized in his message the significance of the forum as the 2019 budget will be an annual cash-based budget. "Shifting from obligation-based budget to annual...
More in NEWS RELEASES